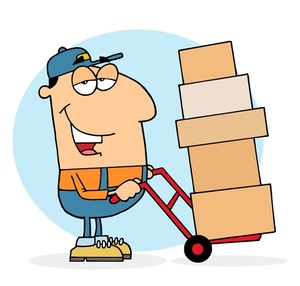 05 Feb

Tips for Sharing Ministry Space – Part 5: Time for Decor – Think Portable!

This post is part of a series on how to share environment space with other ministry teams. It might also be helpful for children's ministry leaders that work in a portable setting.
Time for Decor!
In the first half of this series, we talked about what to do before creating decor for your specific ministry environment. We covered subjects like; planning what multi-purpose environments might look like for general-all purpose use, scheduling and reserving multi-purpose space across teams, communicating that schedule, and establishing ground rules. Now, it's time to think about adding your touches, your flair – the things that will transform the space from a general, all-purpose room, to a place kids can't wait to enter!
Why Ministry Specific Decor?
This blog is all about creating irresistible environments that make kids want to run to church and help them engage in what they are learning. Of course there are many elements that make that happen, but the physical creation of the environment itself is key. If you aren't yet sold on that idea, check out this post. Environment matters and we want to do our best to create great spaces for kids.
But what happens when you share a space with other ministries throughout the day or week? How do you create decor and tailor your space to your ministry needs when everything that you hang on the walls or ceiling, has to come down so the next ministry team can come in and create a space for their needs?
Think Portable
You can create anything you want for your space. Don't limit yourself because it has to come down at the end of Sunday morning. Instead, just think about how you can make it easy on yourself to take it down and put it back up. Think about how to make it portable.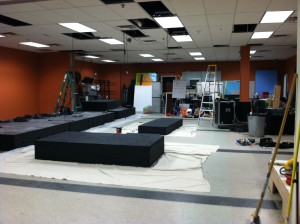 Nearly everything in our children's ministry environment that is specific to elementary aged kids is portable. Things like the stage, light tracks, screens, projectors and tech booth are staples. They don't move and everyone who utilizes the space has access to them. The backdrop on the stage, the signage on our walls and the things we hang from the ceiling are all portable. This photo gives you an idea of what constructing our multi-purpose space looked like. Paint was on the walls, and permanent things like lighting tracks and the stage were being put into place. But, once that was done, the rest of the elements had to be portable.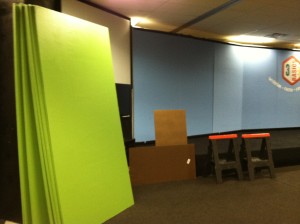 In our efforts to make things portable, we came up with a few short cuts that made it easier to remove things like backdrops, signage and wall decor – and put them back each week. The final posts of this series will tackle each of these subjects individually.
Don't Give Up Before You Start!
Yes, at the end of the day, sharing multi-purpose environments is a bit more limiting than if you had your very own space to decorate the way you'd like, and leave it that way each week. It's tempting to just throw in the towel and not do much in the way of decor because of the extra work it takes. I want to encourage you to not let that happen!
ENVIRONMENT MATTERS! And sharing space means it will take a little more ingenuity as you think about the easiest ways to make everything portable, but it can be done! You just need to rethink things a bit. I believe with all my heart it's worth it. So, hang in there and let the rethinking begin!
Are you in a portable setting or shared space? What systems and ideas do you have that could help make the creation of a "portable" environment more efficient?