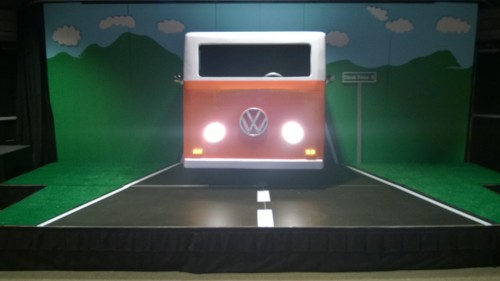 10 Mar

VIDEO – VW BUS! Patience – March 2015: Our Finished Product

Life App: Patience—waiting until later for what you want now.
Theme: Are We There Yet?
Date: March, 2015
VIDEO!
As promised, we have a time lapse video of how our VW Bus was created. The volunteer that created the bus – John Conway – set up a video camera and let it run the entire time he worked on the project. Then, he edited the footage and condensed it into 2 minutes. I believe the actual time to create the bus took a little over a week and he worked mostly at night after his day job.
John is very talented and very generous! He is the same volunteer that created our Live Foreverinator. He is also one of our elders at Community Christian Church. I am always overwhelmed by how he shares his time, talents, and resources with our church and particularly with children's ministry. We are so grateful for John Conway!
If you have specific questions about how the bus was created after watching the video – shoot me an email at lisa [at] readysetsunday [dot] com and I will forward your questions to John.
[vimeo]https://vimeo.com/121752507[/vimeo]
Having a Blast on Our Road Trip!
We are having so much fun with this theme and it's really been a great way to teach about the Life App of Patience. Our VW Bus has been a huge hit. We've had individual kids and entire small groups hop in and get their photos taken. Kids have loved honking the horn, turning the lights on and off, and watching the wheels actually turn. Here is a photo gallery of our finished product:
Don't forget to share photos of your "Road Trip" environments so I can include them in our Showcase!