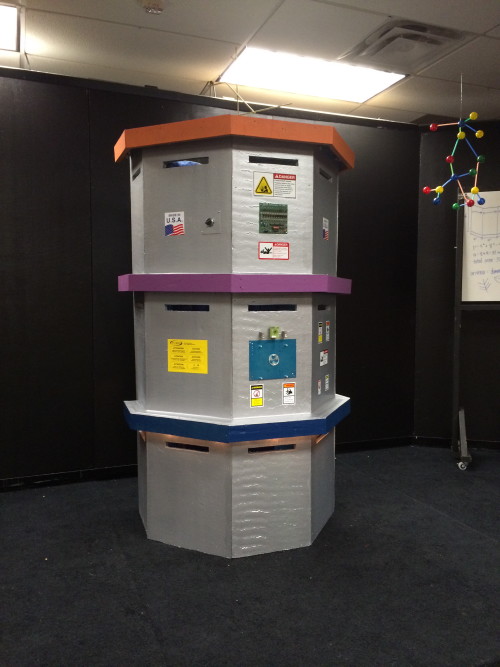 06 Mar

Video: The LIVE FOREVERINATOR!

Life App: Faith—believing in what you can't see because of what you can see.
Theme: Now I See It; Seeing is Believing
Date: February, 2014
Volunteer Made
You can read about our entire finished product for our February set here, but this post will focus specifically on what I felt was our greatest WOW factor this month – The Live Foreverinator. A volunteer in our church built the entire thing for us. He enjoys this sort of work and has a shop that lends itself to this type of project. I am so very grateful!
The entire machine was constructed from insulation foam and painted to resemble stainless steel. Various stickers, gadgets, and the like were added to the outside walls of the machine to make it look authentic. All electrical components were run inside the chamber and plugged into one power strip so that everything worked from one "on/off" switch on the front panel of the machine. A dark blue shower curtain was hung along the back in order to keep the light from being diffused outside of the chamber.
Helping Kids Learn the Truth About Living Forever
The Live Foreverinator was on stage all month long and our host added something to it each week, in preparation for Week 4 when it was finally complete and ready to be "revealed to the world!" I was so grateful for this fun addition to our set and had a blast working with it all month long. Here is a breakdown of what our host did each week to prepare the Live Foreverinator for the final reveal:
Week 1 had the host testing the "external flashing lights."
Week 2 had the host working on more lights this time, circling on top of the chamber and from the inside.
Week 3 had smoke/fog being emitted from the inside-out.
Week 4 had all three things going at once as the host stepped inside and attempted to live forever.
Take a peek at how it all went down on Week 4 by viewing the video below!
[vimeo]https://vimeo.com/88316625[/vimeo]
While the Live Foreverinator was our WOW factor all month long, it was also the perfect segue to teaching kids that the only way to really live forever is through Jesus!