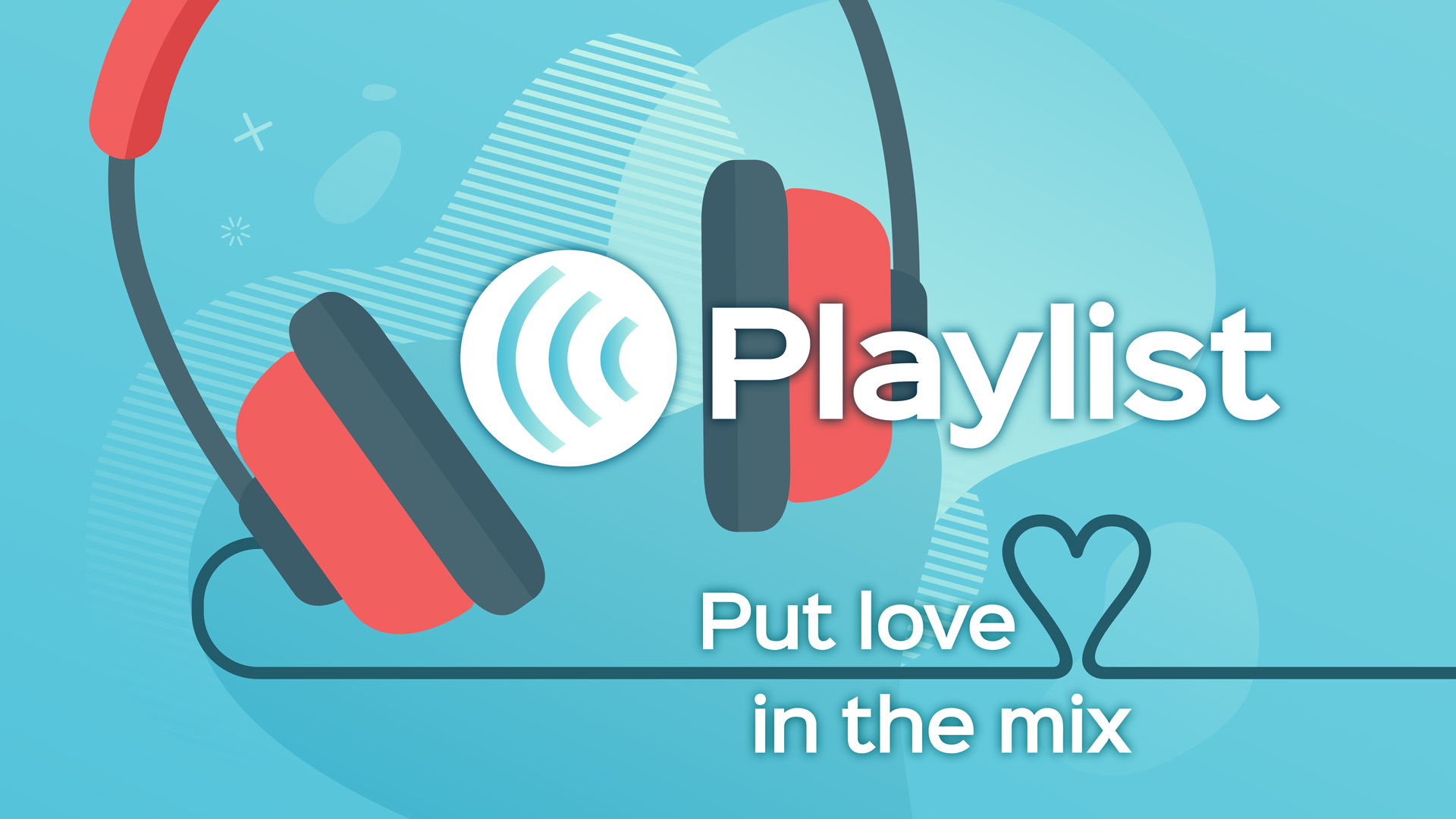 30 Jan

Love – Playlist: Put Love in the Mix – February 2020, Our Plan

Life App: Love – choosing to treat others the way you want to be treated
Theme: Playlist: Put Love in the Mix
Date: February 2020
Supersize It!
A few years back, 252 Kids used the theme Supersize Me to teach about the Life App of Contentment. To this day it was one of my favorite sets we've ever done. Learn more about that HERE.
I love anything that feels like we've stepped into the backyard of Honey I Shrunk the Kids. That's why I'm so excited about this month's set! We've got plans for some oversized pieces to help create our stage design for February! And some elements will be interactive! You know how I love when we can "use" the set as we teach and play with kids each month!
Here's our plan to "put love in the mix" with this month's Playlist Theme. It includes a giant set of headphones and an oversized iPhone on either side of the stage with a DJ Booth in between. We're using the color scheme from the 252 Kids graphics (reds, pinks, and light blues) and we've got a few extra things going for our backdrop and environment overall. Here's what we're working on:
SUPERSIZED HEADPHONES
Black pool inner tubes as the earpiece cushion for the headphones
Painted red circles cut from 2″ insulation foam in layers for the outside of the headphone earpieces
Painted red insulation foam cut for the "headband" of the "beats"
All pieces will be screwed together and mounted on a small platform to keep them steady on stage
SUPERSIZED IPHONE
Foam board cut to 6'x2′ with rounded corners
Outside edge painted red like a phone case
Inside edge painted white
Screen painted black
Album artwork – the bottom lines from the social media graphics on 252 Kids website were printed as 10″x 10″ photos and mounted to black foam board
Velcro will be attached to the back of the album artwork and the black screen of the iPhone
The albums will rotate throughout the month to reflect the following "Spotify" home screen categories:

Now Playing

(the current week's bottom line)

Up Next

(the following week's bottom line)

Recently Played

(bottom lines from January and the February bottom lines as we cycle through the month)

Favorites

(previous Life Apps as playlists)
DJ Booth
In between the headphones and iPhone, we'll have a DJ Booth made from 2″ PVC piping, LED lights will hang from the top bar and will be set to chase for the opener each week as the Host intro's large group and welcomes kids to C3K Radio!
A 2×4′ table with blue painted foam boards that enclose the table
PVC piping put together as a "truss" with lights hanging from it
A large heart with C3K Radio printed on it – on the front of the DJ booth
Equipment for the DJ (Host) to play with during the opener (i.e. headphones, computer, mixer, stacked cd's, vinyls, etc)
Equalizer Backdrop
Hundreds of hearts have been cut using a Cricut in various colors (blues, pinks, reds and whites to match the graphics)
These hearts will be pinned to the backdrop to represent a huge equalizer behind the DJ
Life App iPhones
These phones were created for me by a volunteer about a year ago and I never had the opportunity to finish them. Sunday's always coming and these were not part of the "tyranny of the urgent." So, they've been moved around from my car, to my basement, to our elementary space and back again, over the last year! I figured this month would be the perfect month to start displaying them given the iPhone theme, etc. so I was motivated to take them out of storage and have my set design team help me get them ready!
They will stay in our environments even when February's set is done as a cue/resource for small group leaders when they are trying to remember a Life App we've gone over or when they are reflecting/reviewing with their few. Below is my vision for these phones (one per environment space (K-1, 2-3, 4-5).
All of the Life Apps we've learned throughout the year will be posted on the screen of the phone.
The dock will house the words from 252 Kids/Preteen's 3 Basic Truths – Wisdom, Faith, Friendship, along with the name of the environment where the phones will hang.
The Life Apps will be attached with velcro so as we rotate through the scope and cycle of Life Apps each year, I can just continue to update them.