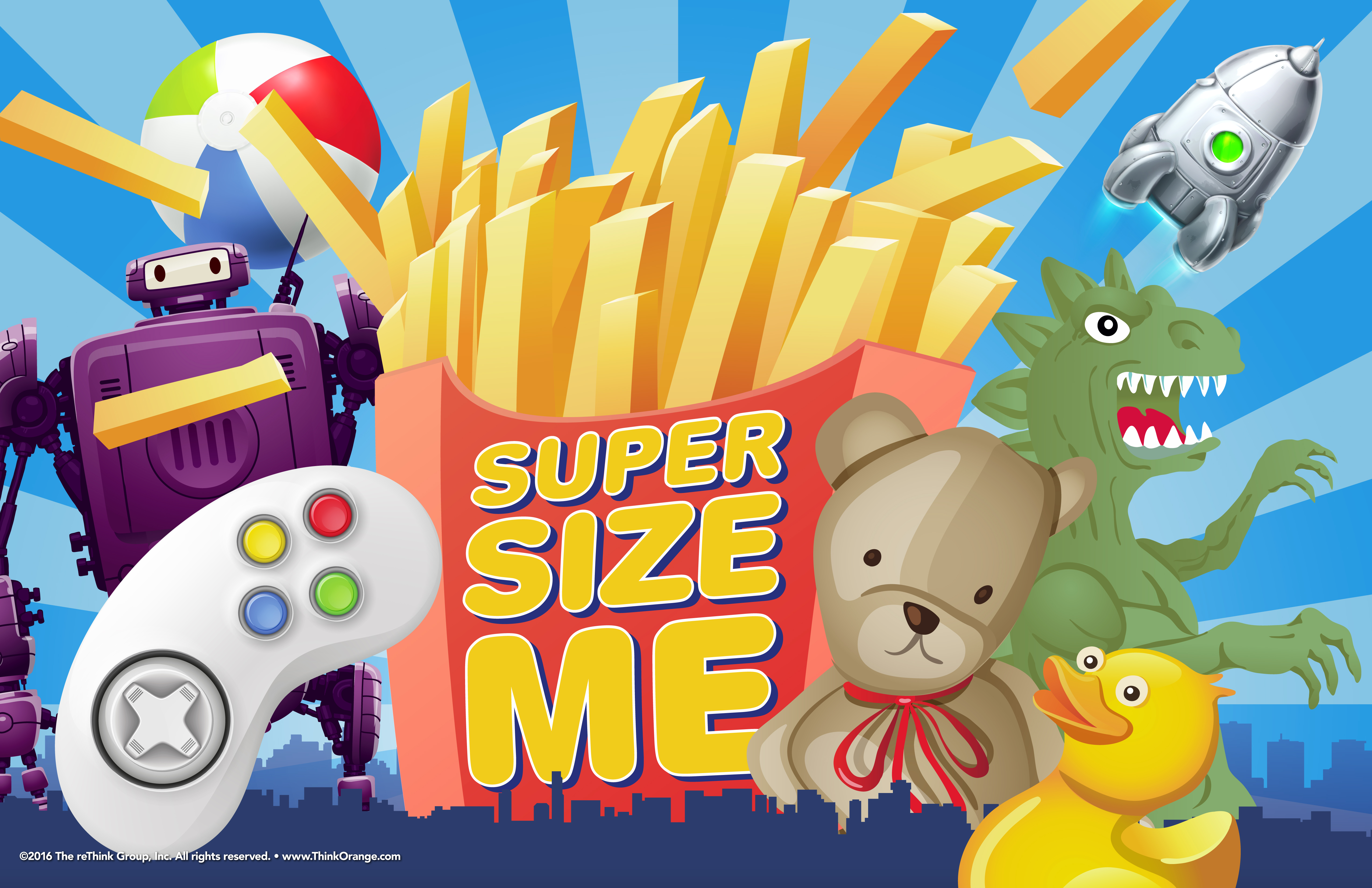 30 Apr

Contentment – Supersize Me – May 2016 – Our Plan & Process

Life App: Contentment – deciding to be happy with what you've got.
Theme: Supersize Me
Date: May 2016
Mad Dash…WAIT… NOW GO!
The past two weeks have been a whirlwind! I knew that I was going to be at the Orange Conference this week. Yes, this week. The last week of the month. The week I usually put my set together for the coming month. 🙂 Since I would have very little time to do anything prior to leaving for Atlanta, I gathered a team and began creating pieces of the set early last week. It was great! I felt so ahead of the game (very unlike me!) and excited at all that we accomplished.
But then – Sunday was coming and not just any Sunday – Spring Jam Sunday! Look for a blog post about that next week. For now, I'll tell you that Spring Jam is a mix of FX – meets Large Group – meets a "party big enough for elementary kids and their friends!" Oh, and did I mention it has it's very own set? Yep! We had to break down our April set, put up our Spring Jam set, and then break it back down on Sunday. We share a space with our Student Ministry, so it had to be cleared for them and we needed to be ready to put May's set together the following day. So, that meant we had to find a place to store all of the pieces that we created for our May set. What a great month to be ahead and have to store elements of a set that just happen to be SUPER SIZED! One more fun fact – our church has NO spare storage! Every nook and cranny have been filled to the brim. So, my super-sized french fries, gaming controller, popcorn box and the like were placed carefully into my car and transported to our off-site storage, aka – my dining room!
On Tuesday of this week, I loaded my car and finished the mad dash to get our May set completed before boarding a plane to Atlanta! I have a few finishing touches to add on Sunday morning, but I felt ready enough to be able to leave and not have it weighing on me while at the conference. Below is our original plan for the set and the process we took to create it.
Our Plan
Plans for this month's set were not hard at all. The suggestions in the "Create Your Environment" section of the 252 Basics matrix were terrific. Plus the Pinterest Board and discussions on the 252 Basics Partner page also provided great inspiration. I knew I wanted to include most of the elements from the Theme Graphic, as well as some others. Some of the items we would create and some we would be able to purchase. Here is what we hoped to have:
Oversized French Fries
Oversized Lollipops
Oversized Pixy Stix
Oversized Popcorn
Giant Gumballs
Giant Cheerio Box (I had this box given to me by a volunteer years ago. It's been in my basement waiting for a time like this!)
I wanted some none food options as well. Here is what we planned for that:
Oversized Lego
Oversized Teddy Bear
Oversized Beach Ball (saved from last month's human bowling)
Oversized Bible (saved from a summer series we did years ago )
Oversized Dinosaur
Oversized Dice
Oversized Game Controller
Oversized Crayons/Pencils
One other idea I had was to have all of the oversized props to the right and left of the center of our focal wall. I planned to set up tables and boxes at different heights and use them to display the "actual size" of each oversized piece. For example, I planned to have a regular Cheerios box, a jar filled with regular sized pixy stix, a clear container full of legos, a small teddy bear, a small beach ball, etc. I was hoping to really make the super size me concept clear by including these everyday objects.
As I set up the stage though, I realized it was just going to make things confusing and chaotic on stage… so I went with just oversized props.
Our Process
Methods for creating this month's set elements came right off of Pinterest and the 252 Basics Partner page. I was especially grateful for the tutorial on how to make popcorn from insulation gap filler because my first few tries looked like a plate of spaghetti! Below, you will find a gallery showing some stages of creation for our May set elements. Check back next week for final product photos.