27 Apr

Blogging from #OC16!

I arrived in Atlanta at around 3:00 pm today. I made that lovely drive up 85 North (in tons of traffic by the way) and found my way to the Infinite Energy Arena where I checked in for this year's Orange Conference. In about 20 minutes, the first main session will kick off. I can tell already that this will be a different conference for me this year. I come to the Orange Conference every year (read more about my love affair with Orange here) but I usually come with a team from my church. I sit with them in the midst of the crowd. I take furious notes in the notebook they provide for us in our conference bags. We eat out for almost every meal and I get to just sit and take it all in.

This year, I have the privilege of being one of the Orange Bloggers, so I'll be blogging throughout the time that I am here. My notebook has been replaced by my laptop. I'm not sitting in the midst of the crowd. Instead, I'm in a seat at the top of the arena with various other bloggers. I did not eat outside at one of the food trucks or at a restaurant. I had dinner in a room with other bloggers and some of the Orange Staff. They shared some of their new products and all of the exciting things we can expect over the next few days. (Stay tuned – I'll be blogging about all of that!) It's been a different conference already and it hasn't even started. Part of me feels a bit like a fish out of water. Like when you go to a new school and everyone seems to know each other already. Having said that, I am super excited to jump in and swim! I am so grateful to have this opportunity. I'll be looking at these next few days through a different lens than I'm used to, but it's going to be amazing.

I can't wait to share all of the greatness that is Orange with you guys. If there is anything specific that you would like to hear about – jump down into the comments section below and I'll see what I can do to get info out there about it. For now… the countdown has begun and the wave has started in the arena. I'll sign off, but now without sharing my first view with you all.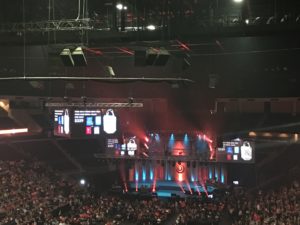 Be sure to tune into the Live Stream of the Conference here.