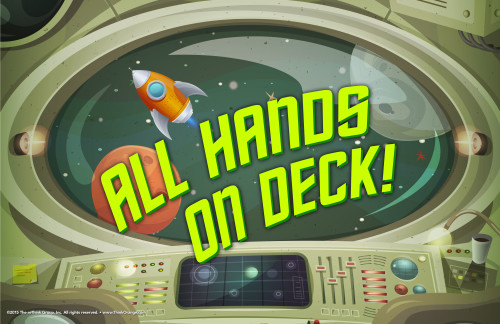 16 Oct

Service – All Hands On Deck – November 2015, Our Plan!

Life App: Service—lending a hand to help someone else.
Theme: All Hands on Deck
Date: November, 2015
Brainstorming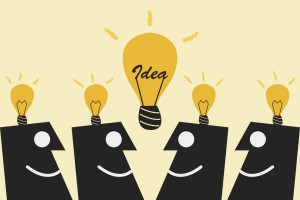 I met with a few different people going into my concept design team meeting this past week. Not everyone could be at the scheduled meeting, so I made some time to meet with them separately and hear their ideas. I definitely had an idea in my head about the direction I thought we should go with our backdrop, but I did not share that with my teammates off the bat. I try not to share my thoughts or ideas when I first sit down to brainstorm with my team. I'd rather hear their ideas first and add to them. I know sometimes, I can get blocked when a team leader shares something they like, because suddenly, it's all I can see.
So, I try to let there be an open dialogue first and a space for everyone to share, and dream, and think as though the sky's the limit (no pun intended this month!). I also try to foster an atmosphere that says "there are no bad ideas" or "the only bad idea is the one not shared." Some leaders I've worked with really take this idea seriously and require anyone who blocks and idea or starts thinking with the mindset of "we can't make that happen" to pay a dollar to the group. We've never had anyone have to pay, but it's a great reminder that we want the opportunity to think outside the box and not feel hindered.
Our First Thoughts
We did not have a ton of ideas this month, because we all landed pretty quickly on what we wanted. It was interesting because since I met with people separately, I got to hear that 3 different people all had the same idea about the direction we should go with this set prior to us coming together as a group. I figured if 3 people were all on the same page about something, it's probably the way to go. It didn't hurt that it was the same idea I had either! 🙂
I'm very excited about this set and can't wait to see it come to fruition. For now… here are a few thoughts that surfaced during our brainstorming:
We LOVE the graphics this month and we all thought the blank memory verse graphic was absolutely beautiful! We considered having one of our volunteers (who is an artist) paint the backdrop to match. If we went in this direction, we would have projected the rocket and the moon(s) onto separate pieces of insulation foam, carved them out, and then had our "resident artist" paint them. This way, we could pin them in place on the rest of the backdrop and have more of a 3-D effect.
We also loved the blank Life App graphic. We considered painting the backdrop to match that and then place several boxes of various heights around the stage. The boxes would be spray painted black. Then we would take various sized styrofoam balls and spray paint them in different bright colors. They would be velcro-ed to the tops of the black boxes and hopefully give the appearance of planets around the stage.
Where We Landed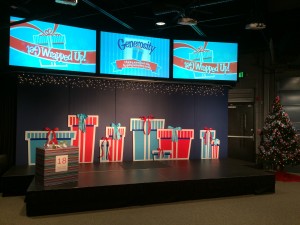 We decided that since the script calls for the host to be on a "observation deck" all month, we would create a space that lends itself to just that! As you've heard me say in previous posts, we use our 3 screens above our stage as part of our backdrop. This month will be no different.
We will use the Service Graphic as our center screen.

We'll use the blank version of the Service graphic on either side, in an attempt to make the image look continuous across the screens.

The blank Theme image is our inspiration for our backdrop.
Next week, I'll paint a base coat that matches the blue in the Service graphic on all 5 insulation foam panels that make up our backdrop.
I have a volunteer that is an artist coming in on Thursday to paint the "window" section of the Theme graphic and embellish the backdrop itself with stars, etc.
We'll project the Theme image to the size we want. We want the window to take up most of our backdrop.
From there, we'll use additional insulation foam to trace and carve the oval window frame.
We are hoping to use a large piece of plastic sheeting to hang over the painting of the window so that it gives the feel of a real window.
We'll use several pieces of insulation foam to create the control panel that will sit under the window.
We're hoping to have working lights on either side of the window frame.
We'll use a tablet of some sort for the screen on the control panel and various knobs, joy sticks, etc. for buttons, etc.
We hope our backdrop will give kids the feeling that they too are in the same spaceship as the host, on the observation deck, looking out into space. We feel this will be a fun way to learn about Service and literally get "All Hands On Deck!"
What are you planning for November's environment? Share your ideas in the comments below or on our Facebook and Twitter pages.