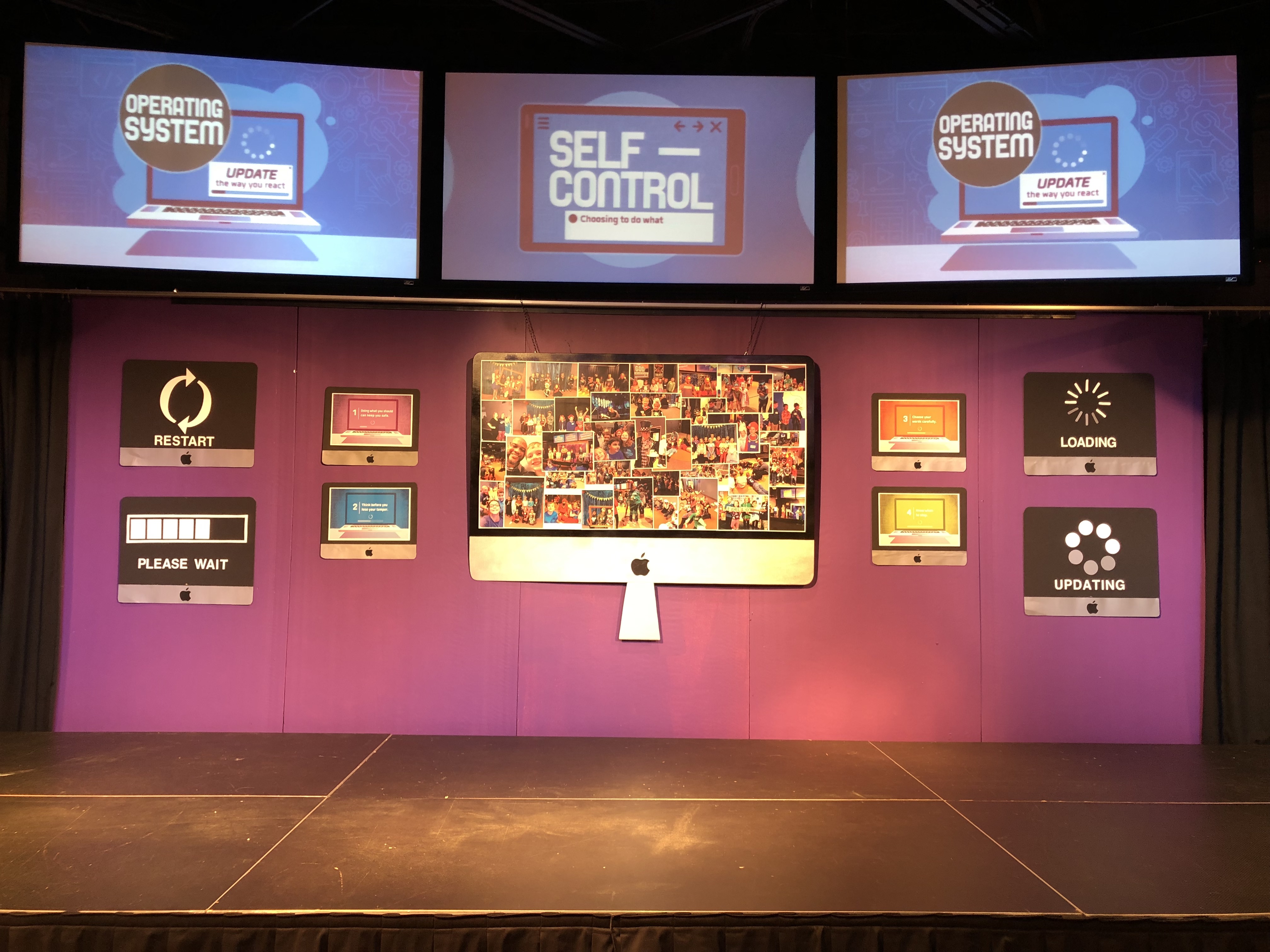 14 Oct

Self Control – Update Your Operating System – January 2019
A Yearly Rhythm of Rest
2019 started off with a bang as we kicked off the Life App of Self Control! I love the way this set turned out, but you'll notice it's one of our more simplistic sets. This is intentional!
Each year, we try to keep our January sets as simple as possible. The timeline I shared in this post utilizes two build nights each month. In December, however, we try to keep it to one build night. The week between Christmas and New Years is a time where people are traveling, resting, and enjoying family and friends for the holidays. As such, it's harder to get a crew out for a build night, so we make sure when we are deciding what our January set will look like, that we can build it in one night during the week going into the first Sunday of January.
Spinning Beach Ball of Death and More!
This year, given the theme "Update your Operating System"… we knew we wanted something to do with computers. We thought of all of the things that go along with updates – the spinning beach ball of death, dots that circle, loading bars, etc. We knew we wanted them represented somehow (to show something was updating and we had to wait), so we created four medium-sized signs from black poster-board with white letters and symbols. We used metallic silver poster-board to create the base of the monitors and printed and cut several small Apple Symbols to go in the bottom center of the monitor's screen. These four medium-sized signs hung on the outside edge of the backdrop. Inside that square of monitors hung our 4 bottom lines for the month. We printed the 11X17 poster images from the 252 Kids website and then each one was mounted to another piece of black poster board that would also be made to look like a computer screen. These would hang inside the monitors that looked like they were loading/updating.
Precious Faces!
In the center of the backdrop, inside the 8 monitors we had created from poster board, we created an oversized Mac computer screen. Thankfully, one of our set design team members and his son were looking for a project over Christmas break. They designed and created the computer for us from chip board and metallic paint.
On our build night we used spray glue to affix multiple photos of kids in our environments from the last year. It looked like a tile screensaver in the end! The kids loved looking for their photos and seeing pictures of themselves with their friends.
We placed it all against a purple backdrop to coordinate with the color scheme of the monthly graphics from 252 Kids, and called it a day! We thought about placing actual computers, i Pads, smart phones, etc around the stage on various levels of black boxes and tables, but decided not to. We thought the images on the backdrop popped enough to stand alone. Not having anything on the stage also allowed kids and families to come up and look at the photos on the "Mac" without having to worry about knocking anything over or disturbing the set in anyway. Normally, our stage is off limits, but this month we made an exception and it worked beautifully. I saw parents taking pictures of their children next to photos they found of them on the "Mac," and they had fun looking at what felt like an oversized family photo album!
Cheers to 2019 and the Life App of Self Control!