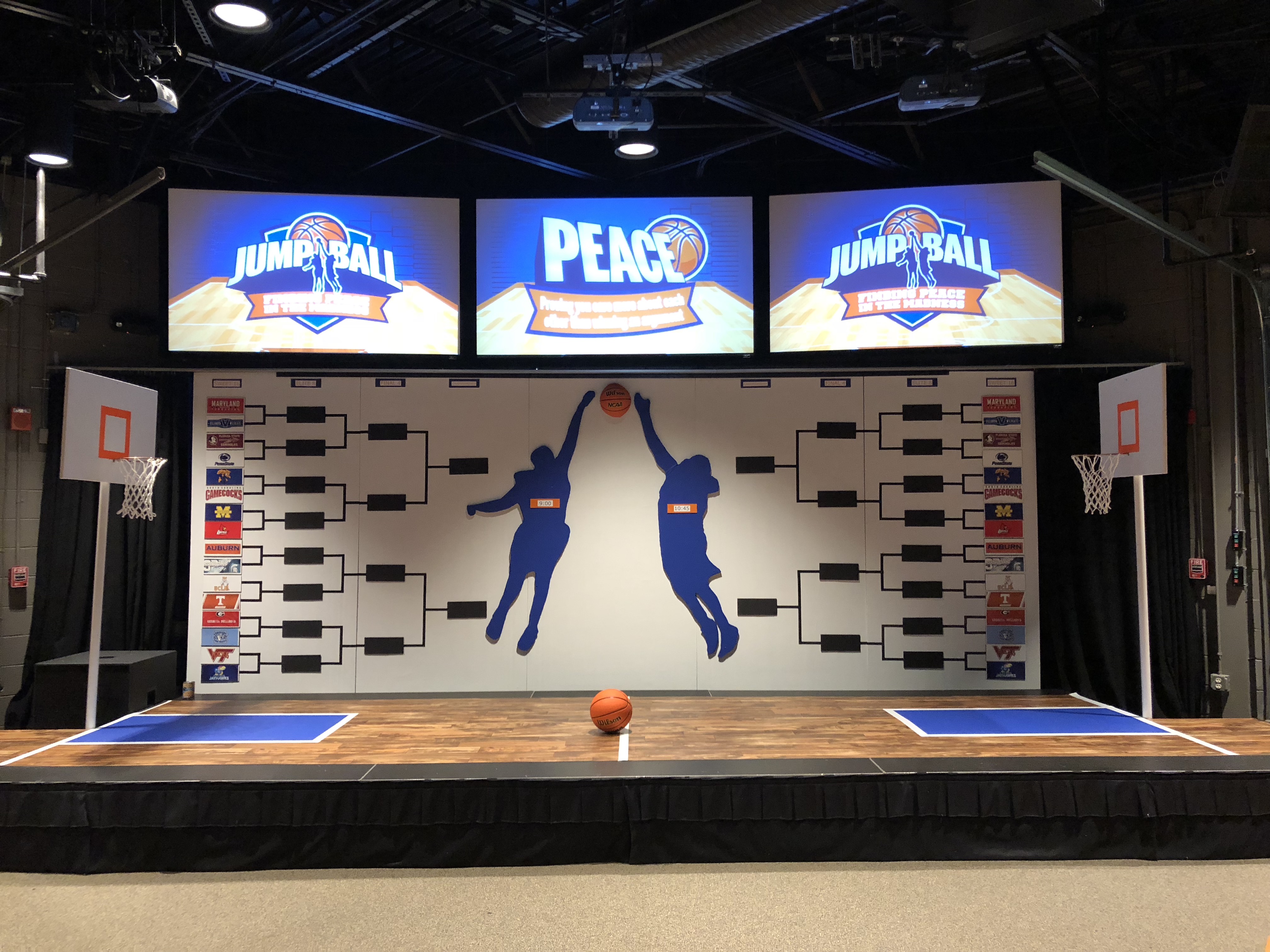 11 Oct

Peace – Jump Ball, Finding Peace in the Madness – March 2018

Life App: Peace – proving you care more about each other than winning an argument.
Theme: Jump Ball, Finding Peace in The Madness
Date: March, 2018

This is an old set and a post that never got finished, but it is in my Top 5 for favorite sets, so I figured it might be time to get it out of the draft bin! Oh and by the way – I didn't win. Read to the end to find out what I mean. 🙂
March Madness Is Right!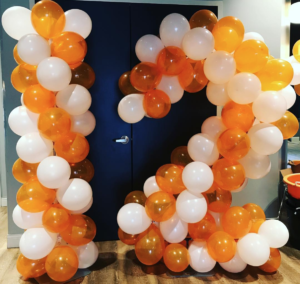 I love this theme and am so excited about what our set design team came up with this month. I was away the week before the first Sunday of March at the Exponential Conference in Orlando. We came back from that conference to a big Sunday for our church, as we celebrated our 12 year anniversary. There was much to prepare and our entire staff was gone for the week – so it was absolute "madness" as we got ready for March!
Our set design team worked their magic as always and I came back to a beautiful set that was sure to reinforce all that we wanted to do for the month of March.
Interactive Sets and Sunday Fundays!
If you read this blog regularly, you know I love anytime we can use the set as part of our teaching. I love when the bottom lines can be revealed each week and the host can use the backdrop or something on the set to help reinforce what is being taught. This month, our set created the backdrop (no pun intended) for our Host's opener each week.
We loved the subtle bracket that was a part of the 252 Kids Life App & Theme graphics. We decided to create a bracket on our backdrop as well, but as we thought it through, we decided it would be great to have a "working" bracket all month long.
Brackets on the Backdrop
We created 16 teams and gave them college basketball team names
We found Google images of these team names/mascots and printed them on cardstock (each was 4.5 by 11 inches).
We glued them to black craft foam to make them sturdy and give a 3-D feel.
Since we have two services on Sunday mornings, it worked for us to have two sets of 16 teams (teams per service) and put each on either side of the backdrop.
We carried the bracket across the backdrop on the right and left sides by placing the black craft foam placards in place and connecting them to show who would advance in each round with 1 inch black duct tape.

Week 1 – Sweet 16
Week 2 – Elite 8
Week 3 – Final 4
Week 4 – Championship Game

We projected the two people from the Jump Ball Graphic and carved them from insulation foam
We painted them blue
We cut a basketball in half and pinned it to the center of the bracket.
Then we pinned the two "basketball players" we created on either side jumping for the ball.
The Stage
We also created two basketball hoops and a floor with keys for the stage:
We purchased vinyl wood flooring from Home Depot.
We bought a piece that was 12'x12′ and cut it in half.
We taped the two pieces together to be the center line.
We taped off two keys on either end and painted them blue.
We used PVC piping (3 inch) for the basketball hoop poles
We used insulation foam cut to size and painted white for the backboard
We used copper piping to create a rim and attached a basketball net to it
We taped a square over the hoop/net for the backdrop
We created bases to hold the hoops in place
We placed a real basketball "center court" for the host to use each week.
Games for Openers
We rewrote the games in the Host openers each week to use some form of basketball and allow the teams we created to compete.
As teams were "eliminated" each week, those students became super fans! They could choose who they were going to root for and create signs for the competition, etc during social time.
My FAVORITE PART!
While I've loved the way our set, stage, brackets, and games have worked this month to engage kids in learning about Peace in a really fun way, I have something else going on that I am equally excited about. I decided since this whole theme for kids was March Madness and we were focusing on brackets each Sunday morning, it might be fun to do a bracket with my volunteer team.
I invited each of my volunteers to join me in a March Madness Bracket Pool. I used an app so it will calculate everything for me and just sent everyone the link. I really don't know much about college basketball… I'm a Terp fan and attended Maryland in the days of Lefty Driesell and Len Bias. But, I have never participated in a bracket and really don't watch much college basketball until the Final Four each year. Last year, I was excited for the Gamecocks (my youngest daughter attends there), but for the most part… it's not my thing. Even still, I have LOVED this bracket pool. Not because of basketball but because of the conversations I hear my teammates having on Sunday morning, the interaction on our Volunteer Facebook Page, and the sheer fun of having a way to connect with my team outside of Sunday morning!
Brackets have quickly become a personal favorite in making connections! They've helped us connect kids to Peace and volunteers to one another! I'm grateful for Madness this March!
Oh and go Kentucky… I picked them to win it all!