06 Apr

Kraft Paper/Bulletin Board Paper/Fadeless Art Paper/Butcher Paper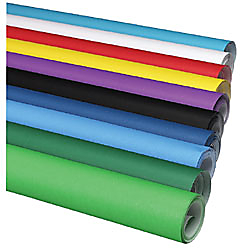 There are many names for this paper as you can see above. Teacher supply stores have large rolls of bulletin board paper and you can purchase it by the foot very inexpensively. If you do not have a teacher supply store near you, many craft stores are beginning to sell this type of paper by the roll.
There is also an option for fadeless bulletin board or art paper. While it is a bit more expensive, we like it better. It has a cleaner, more vibrant appearance. We use this paper anytime we need to cover a large area and do not want to paint. Signage and portions of our backdrops are often created from this large-scaled kraft paper. For example, the blue sky in this set below was created entirely from bulletin board paper we purchased for 25 cents per foot at a teacher supply store!