04 May

#OC16 – Monday is Coming – You Can Face it With Confidence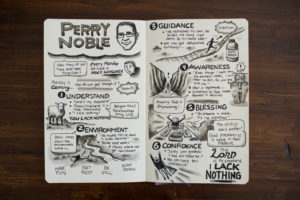 I loved every bit of the Orange Conference this year, but the final session was the one that had the greatest impact on me. The speaker was Perry Noble and as always he encouraged me, made me laugh, and inspired me to keep going! I came to the Orange Conference on the heels of a crazy couple of months. In addition to my regular Sunday morning programming and ministry leader responsibilities, we had several big events at our church throughout March and April. We were all running hard and I was tired and a bit overwhelmed. OC16 came just at the right time and Perry Noble's message was just what I needed.
Hangovers
Perry opened his message talking about the Monday morning "hangover" only those of us in ministry can understand. He affectionately called it a Holy Hangover! That made me laugh. I was grateful for the angle of Perry's message because while most of the conference focused on stepping into other people's Mondays, Perry focused on Monday for those of us who serve in ministry. He acknowledged that Mondays can be hard for ministry leaders.
I don't know about you, but here's how Mondays can look for me sometimes:
On Monday, I can feel tired after gearing up all week for Sunday.
On Monday, I can wonder if what we did "worked" or made a difference.
On Monday, I will probably hear what didn't go well on Sunday.
On Monday, I might face conflict and criticism can be generous.
On Monday, I might want to quit.
Thankfully, Perry Noble shared several practical things we can do to help us walk through our Mondays. Yes, Monday is coming, but we can be prepared for it. We can't get rid of Monday, but we can take steps to get through it. These steps can all be found in God's Word, nestled inside the 23rd Psalm. Perry walked us through verses 1-6 and assigned a word to each verse. Here's how he unpacked the familiar passage, giving it fresh insight and new meaning.
Psalm 23
Understanding
Verse 1: The Lord is my Shepherd. I lack nothing.
If I understand that the Lord is my shepherd, I understand that we have a relationship and I lack nothing because of His care for me.
When I understand this, then I can find my identity in my relationship with the Lord and it will help me get through my Monday Morning-Holy Hangover!
Our relationship with the Lord is paramount. We cannot just go through motions and rituals. Religion kills. Relationship gives life!
Instead of telling God what I don't have, I need to understand that I lack nothing because He is my shepherd. He gives me everything I need and I need to be thankful for the budget and talents that He has given me.
He will entrust more when I begin to act with what He has given me and have a grateful heart.
Environment (this was my personal favorite!)
Verse 2: He makes me lie down in green pastures. He leads me beside quiet waters.
Jesus really cares about the type of environments that we are in.
We will not create great environments if we have not spent time in great environments. (This statement is going on an index card to be hung on my board over my desk!)
When our minds take a break, we can have a breakthrough. Some of our best ideas come to us in the shower because we do not have to think. We have a pattern/routine we have done for years and our minds are still and quiet. This gives room for new thoughts.
God cares about our environment. He wants to lead us to places where we get nourishment. He knows it is where he can restore us, give us ideas, take care of us.
Quiet waters – Psalm 46:10 doesn't say be busy and know that I am God. It says be still and know that I am God! We don't find our green pastures and our quiet waters long enough to slow down and hear from God.
Since we can trust that we have everything we need (we lack nothing-vs.1), we can take the time to find our green pastures and quiet waters!
Guidance
Verse 3 – He refreshes my soul. He guides me along the right path for his name's sake.
We need refreshing for our soul.
When we get dehydrated spiritually, we will lose our ability to have compassion on the people we lead.
When we get spiritually tired, we will stop doing what is right and start doing what is easy.
God did not put us in a ministry position to watch us get our soul dehydrated and fail.
Once we get our souls refreshed, we receive direction from God!
Awareness
Verse 4 – Even though I walk through the darkest valley, I will fear no evil, for you are with me; your rod and your staff they comfort me.
The only problem with saying people who follow Jesus will not have pain or problems, is Jesus.
Jesus went through to the Cross b/c He knew there was something better on the other side.
Without the crucifixion we cannot have a resurrection.
We all want the resurrection but we don't want the crucifixion.
When we begin to see the greatness of God we become fearless in our decisions.
Blessing
Verse 5 – You prepare a table before me in the presence of my enemies. You anoint my head with oil; my cup overflows.
In the Harry Potter movies, the food scenes are amazing. Think about those images in light of the table God prepares for us. It will be so much better than even those amazing feasts.
This table that God prepares is in the presence of our enemies. This is KEY!
Often we take our eyes off the table God has prepared for us and we place our eyes on the enemies. When we do this, we turn our back on the table God has laid out for us. We miss out on the table because we are looking at the enemies.
For example, we could have a great Sunday or event and have 100 "wins" but if we have one negative thing happen, or one person makes a negative comment, we spend our time and energy on that one thing. God wants us to keep our eyes and focus on Him and the table He prepares for us.
Confidence
Verse 6 – Surely your goodness and love will follow me all the days of my life, and I will dwell in the house of the Lord forever.
Often we come off of a great event and think – how are we going to top that? We'll never be able to do that again. But we forget the blessings of God and that he will help us again and again.
He has more ideas, more blessings, and can do more than we could ever imagine.
My Personal Take-Away
I was so thankful for this message. As I said, it came at just the right time for me. I had not been taking the time to place myself in good environments. I had not been allowing myself to be still. Instead, I had been running at Mach speed and was dehydrated and in great need of refreshment. Orange put me in great environments all week and this message restored my soul. It helped me see the importance of sitting at the feet of Jesus. When I do not take the time to sit in His grace and be loved by Him, I do not love well. I work hard and run crazy. I get lots done and check off my list, but I don't like myself very much and certainly don't see myself through the eyes of Jesus. I only see my flaws, where I dropped the ball, and all that I am NOT doing. Coming out of OC16, I feel excited. I have some goals set for my ministry work and for myself personally and at the top of that list – make Mondays count – for me and the people in the world around me.
Thanks OC16 for an amazing 3 days! I have left once again, with a full heart, more in love with my Savior, and thrilled to go back and give my all to the work that God has entrusted to me! Here I come Monday – I'm ready for you!