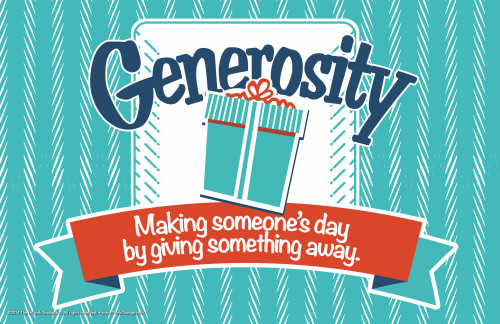 05 Dec

Generosity – Get Wrapped Up! – December 2014 – Part 2: Our Process

Life App: Generosity – Making someone's day by giving something away.
Theme: Get Wrapped Up!
Date: December, 2014
A New Space to Decorate!
This Sunday kicks off the Life App of Generosity and we are having a blast getting our environment ready. This is our first Christmas in our new building so as a church, decorating has been extra fun all around.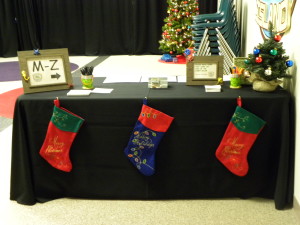 It's been very different for us in the elementary department. In our old building, we had registration tables inside the elementary space that we decorated, and we had low ceilings that we used to add decor from time to time – but especially at Christmas. This building has a different vibe and as a result, our decor is simpler this year.  In our current space, we have centralized check-in in the main lobby, so there is no need for us to decorate tables, etc.
The ceilings in our current elementary space are higher than in our previous space. They are also exposed, so it is more difficult to hang things from them. We will do that from time to time, but since there are several events that will take place in the elementary environment over the next few weeks, and this is such a busy time of year, we decided not to make more work for ourselves by having to put up and take down additional decor. You might remember from this post that our space is multi-purpose, so everything we do has to be portable and during months that have less going on – we are happy to do some extra things, but for December we're keeping it simple.
Here's What We've Got So Far…
Basically our environment decor consists of 3 main things: our set for our stage, our "Generosi-Trees" for our 3rd-5th grade small groups, and a Christmas tree that actually came to us unexpectedly yesterday. More on that story below. Here are some notes about our process and some photos of what we have done so far.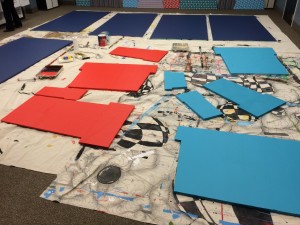 OUR SET
We painted our backdrop (five insulation foam panels) a dark blue color to match the graphics from 252 Basics.

We used smaller, leftover pieces of insulation foam and cut them into large gift packages that had a cartoon-like shape, similar to the theme graphics from 252 Basics.

We painted the packages blue and red (again matching the graphics).
We will use white duct tape to create the outline of the packages and the stripes on the lids.
We will use red and blue ribbon to create the bows on the top of each package.
We plan to pin the packages into the backdrop in either one large group or several smaller groupings.
We may add the word generosity across the top of the backdrop – using letters cut from a Cricut.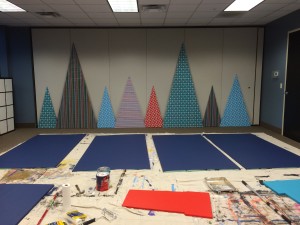 GENEROSI-TREES
We used insulation foam to cut triangles of various sizes.
We wrapped each triangle in different Christmas wrapping paper that all shared the same color pallet (blue, red and white).
We will put a star at the top of each triangular tree and label each with the name of a 3rd-5th grade small group leader. These will serve as decor, but also as our Generosti-Trees for the month.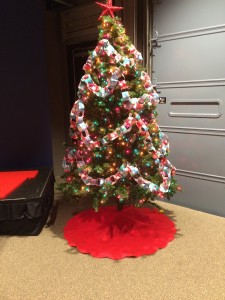 A FUN SURPRISE
The "Christmas Decorating Team" for our church came across a multi-colored, pre-lit tree from previous years that they decided not to use. They asked if we wanted it in our elementary space. I said sure, but didn't know where I'd incorporate it or how I'd decorate it yet. One of the volunteers that was helping came up with a great idea to use the extra wrapping paper from our Generosi-Trees and make paper-chain garland. It has turned out to be super cute. All on a whim and thanks to the great idea of someone that happened to be passing by!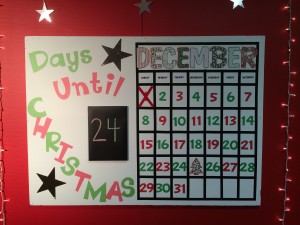 STILL THINKING
Last year, the script called for a calendar as part of the set, to help countdown the days until Christmas. Our kids loved it and even asked it we'd have it again. I've been trying to think about a way to do a countdown till Christmas on stage. Right now, I'm thinking of buying inexpensive give boxes (shirt box size) and wrapping them in the same paper as the Generosti-Trees and chain garland links. Then, I'm thinking about placing a number 1-25 on each box and stacking them like a Christmas tree. We would remove boxes each week to countdown the days until Christmas. So for example – we would remove 7 boxes this Sunday (numbers 25 back through 18), showing 18 days left until Christmas. Each week we would remove 7 more boxes revealing the number of days left until Christmas. I'm not sure if we'll do this yet. Look for my "Finished Product" post next week for details about where we landed on everything.
How about you? What are you putting together for your environments this week?