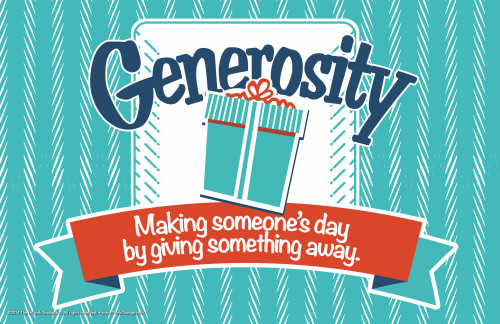 20 Nov

Generosity – Get Wrapped Up! – December 2014 – Part 1: Our Plan

Life App: Generosity – Making someone's day by giving something away.
Theme: Get Wrapped Up!
Date: December, 2014
Reminiscent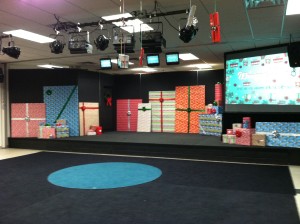 The theme for December reminds me of one from a few years back. In 2011, the theme for December was "All Wrapped Up." I believe the Life App was Generosity then too. Our set involved using insulation foam that we cut into squares and rectangles of all sizes. Then, we wrapped each shape in wrapping paper and added a bow to make oversized gifts. We lined these gifts up along the backdrop of our stage, overlapping them to give dimension and then added a few real boxes (that we wrapped like gifts as well) in front of the insulation foam gifts. We hung small wrapped gifts in groupings of three from the ceiling throughout the environment. It was a fun set and I remember cleaning out our local dollar store as I purchased most of the wrapping paper, ribbon, and gift boxes they had to offer.
Graphics Inspire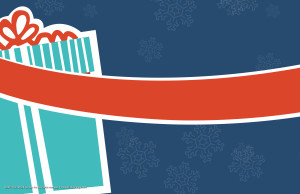 We really love the graphics and the colors that have been chosen for this month's theme. Personally, I love that they are not the traditional green and red Christmas colors.
When we moved into our new space this past June, we purposefully hung our screens above our set. With the use of Pro Presenter and 3 projectors, we can choose to have our images displayed across all 3 screens, individually on each screen , or separated by a "Prop" which displays an entirely different image on the center screen. This has made what we put on our screens a big part of our decor. What goes on our screens each month really sets the tone for our backdrop and how we will decorate.
We always decide first what will be on our screens as our "default" (or main slides) throughout the large group production. From there, we determine what will go underneath those screens on the stage and backdrop. The graphics displayed on the 3 screens above our stage act as an anchor* for what goes below them.
*DESIGN TIP: Having an "anchor" is an important element of design. It's the thing that ties all other aspects of the environment together. It can also provide a central point for making decisions about the color, texture, size and shape of various other elements in the space.
This month, the Generosity graphic will be our center screen and the theme graphic ("Get Wrapped Up!") will be on either side. The side screens will change to the memory verse, bottom line, etc. when called for, but the center screen with the Life App will remain the same. The only exception for this will be during worship when we stretch our Live Lyrics for each song across all three screens.
Our Plan
Since we love the graphics so much this month, we are going to mimic various elements from them for our stage decor.
We are going to paint our entire backdrop the navy blue color from the graphics.
We'll use several pieces of left over insulation foam that is already cut down into rectangles and squares and paint them to look like the gifts in the graphics. Since the backdrop will be navy blue, our packages will be painted using the teal, red and white from the graphics. I will probably have anywhere from 5-7* packages and plan to cluster them in a large group at the center point of the back focal wall, making them look like a large pile of wrapped gifts.
*DESIGN TIP: It helps to work in odd numbers when creating groupings. Display things in groups of 3, 5 or 7 for best results aesthetically.
I'm considering adding twinkle lights either to the perimeter of the stage or along the backdrop itself – just because I love twinkle lights and especially at Christmas!
I'm also considering having a wrapped box (the size of a Xerox paper box) act as our "signage" for where each group is seated each week. So, on each of our circle carpets there would be a box that is wrapped like a present, but the grade level of the group that sits there each week will be written on the side of the box. I'm hoping this will help bring the decor and the "Get Wrapped Up" theme out into the environment itself.
Finally, our 3rd-5th graders meet in a space that is connected to our large group environment, but is separated by a retractable wall. This means you can see that space until after large group when we close the retractable wall for small groups. Since I'm hoping to carry some element of decor throughout the entire environment for Christmas, we are planning to create large trees out of insulation foam – cutting each 8'x4′ piece into 3 triangles and wrapping each triangle in wrapping paper. Each tree will have a star or a bow at the top with the small group leader's name or grade level of that particular group. These will line the one blank wall of that environment and act as their "generositree" trees for the ornaments they make in their prayer activity each week.
A Few Other Ideas We Tossed Around
As we brainstormed what we wanted to do for this month, some ideas that came across the table were:
Using insulation foam along the entire front and sides of the stage. These pieces would be cut about 6 inches above the stage height and wrapped in wrapping paper (all the same wrapping paper). Then a bow would be attached in some way to make the stage itself look like a large gift and the host, storyteller, and worship leaders would be standing "inside the gift" as they conducted large group. Budget constraints and the logistics of our large group activities did not allow for this, but we really liked this idea.

Painting the backdrop to look like wrapping paper and then attaching an oversized bow with ribbon extending from each side of the bow. The entire backdrop would look like one large package wrapped with a bow. This was very economical and we thought it could be fun, but wondered if it had enough of a WOW factor for our Christmas set???
So what are you up to for December? How are you GETTING WRAPPED UP in generosity? Be sure to comment below and let us know what you are up to!