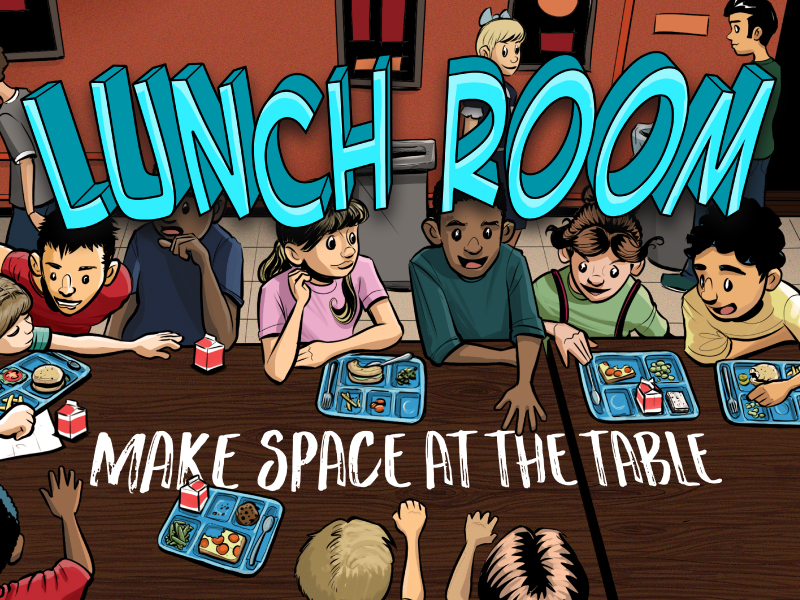 19 Aug

Friendship – Lunch Room – September 2017; Our Ideas

Life App: Friendship—using your words and actions to show others you care.
Theme: Lunch Room – Make Space At The Table
Date: September 2017
Not There Yet…
As I write this post, I have to be honest and tell you that we have not really "landed the plane" on an idea for September's set. Yes, I know it's two weeks away… but truth be told, I'm struggling with this one. We've tossed around some ideas but I am still not completely sold on any of them.
It's a Love/Hate Thing…
I think I'm having trouble finding a way to make a "lunch room" theme exciting and fun for kids. Don't get me wrong – I absolutely LOVE the idea of teaching about Friendship. I also love that we are doing it in September when kids are going back to school and I LOVE the theme – "Make Space At the Table." It makes complete sense to use the lunch room as the setting to teach about Friendship and the idea of "make space at the table" is just perfect. All in all, I think the entire concept is brilliant. I just can't figure out how to bring that concept to life in a fun set that offers a WOW factor. If you've read even a few of my blog posts – you know how I need the wow factor! All this to say – we're still in brainstorm mode.
As a result, I've included the ideas we've come up with below. I'll let you know when we do finally land the plane. How about you? What are you all doing for the month of September?
Our Ideas
Here is our Pinterest Board for this month's set: September – Friendship
Here are the ideas we've talked about:
Create a lunch room on the stage:

A long table with 6 chairs on stage
A "bulletin board" on the backdrop with posters of food pyramids, the bottom line posters,
A sign somewhere on the backdrop that says "C3 Kids Lunch Room" or "C3 Lunch Bunch"
Lockers (we have a few in our space already) off to the stage of the side
Splitting the stage to resemble a school – one side would be a classroom, the other a cafeteria:

Classroom side:

Lockers on one side of the stage
Desks in front of the lockers (small TV tables with chairs)
Decor to denote a classroom feel on the backdrop (bulletin boards, posters, etc.)

Lunch Room side:

Shelving with food on the other side of the stage
A counter with a register on one end
Long table with chairs
Food posters, etc.

Large inflatables of food like pizza, pretzels, hot dogs, etc around the stage
Mimic the theme graphic and create an oversized lunch tray on the backdrop:

Use insulation foam to create a lunch tray with sections
Use green ball pit balls hot glued together for peas
Use rope/string for spaghetti
Use square boxes painted red for cubes of jello
In the compartment that says Lunch Room – use the phrase C3 Kids Lunch Room or something like that

Use brown bags, lunch trays, and paper plates hung and configured on stage to make a cool backdrop or spell out a word like friendship
Create a large bowl that looks like Alphabet Soup on the backdrop and spell the word Friendship in the bowl. Maybe a painted large Alphabet soup can off to the side of the bowl and above it a sign that says " What's on the menu?"
Create "place settings" (fork, knife, spoon, plate) and hang them flat against the backdrop in a circle as if they are seats at a table. Put letters that spell "make space at the table" in the center of the circle. Could interchange place settings with lunch trays.
Photo Inspiration
These are also part of our Pinterest board, but I've pulled them out here because they are the ones that are really driving any ideas we have right now.