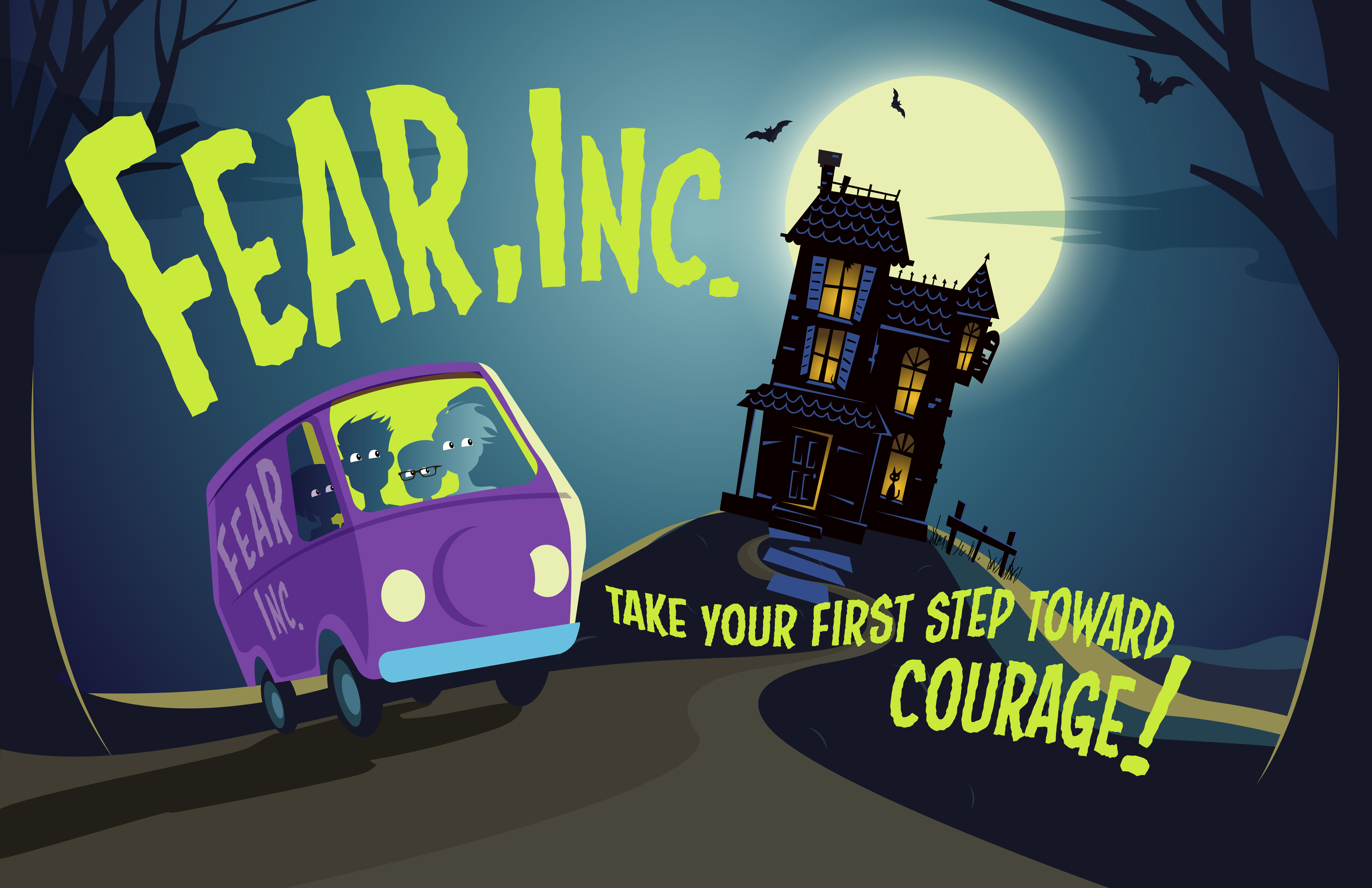 29 Sep

Courage – Fear Incorporated – October 2016; Our Process

Life App: Courage—being brave enough to do what you should do, even when you're afraid.
Theme: Fear Incorporated
Date: October 2016

My new process for set design is underway for the month of October and it has been fantastic! I will post all about how it works in Part 3 of my current series "System Overhaul." Look for that this week. For now, I wanted to show you a bit of what we (well, not me exactly – my amazing team!!) did to create October's set.
Work Night #1
3 volunteers came together and kicked off the set design for October by projecting images of spooky trees, a house, and the moon onto insulation foam boards. This took about an hour.
On a separate day, a volunteer and I carved these pieces out using a hot knife. This took about 90 minutes.
Work Night #2
Once the pieces were carved and ready to go, they got painted.
Being ahead is great … except for storage!
I absolutely love that our new set design process has us so much farther ahead! The only thing we are still working out is where to store all of our items that we create until they are ready to be put on our stage. We created the pieces in the gallery above 12 days prior to the launch of October's set. That meant we still had one more Sunday in September. Obviously, every room/environment is utilized for Sunday morning, so things had to be tucked away and hidden.
Time to get creative! We stored some of the pieces behind our current set. We slipped them in between our foam board backdrop and the wall. There are just a few inches of space in between and we were able to fit most of it there, but we had to be extra careful sliding them in and out. Foam boards do not transport well and can snap easily. Thank goodness for T-Pins and duct tape! We also found a bit of space behind the curtain next to our stage. It worked and got us through our Sunday morning services.
BUT… all of this had to move once Sunday services were over because we share a space with Student Ministry. They take over almost all of the spaces of our church for their evening programming and they use the cinderblock wall behind our backdrop, as their backdrop. So, we found the one place in our church that was not being utilized (the nursery) and hid everything in there. I'm not sure what we'll do if we lose the nursery any time soon. 🙂
Work Night #3
One part of the overhaul to my set design process, involved recruiting leaders to own certain portions of the process. I have had several amazing people step into various roles and they are making it all so much better than I could ever have imagined. Why-oh-why did I not do this sooner?!!!
This new team ran point on Work Night # 3. It happened – COMPLETELY – without me! I was actually at the Orange Tour in Lancaster and was able to go to dinner with my team afterward because these leaders had everything under control. It was amazing. I got home that night to the following pictures on our Set Design Facebook Page:
I loved seeing everyone working together. I loved seeing them make decisions about how things should look and how they could make it work. I LOVED the finished product! Notice the house windows light up? I'm not sure how they got that to happen but I think the wood structure that was being attached in one of the photos above has something to do with it. The moon also glows in the dark! And our trusty VW bus/van was repurposed from last year's "Are We There Yet?" set. If you are interested in how that bus was originally made, check out this video:
[vimeo]https://vimeo.com/121752507[/vimeo]
Oh, and by the way – did I mention that every peice of this set is portable! Yep… we'll be breaking it down each week and storing it in our nursery until the following week when it's time to reset for Sunday morning.
Ready.Set.COURAGE!
We were ready for this Sunday's launch of Courage-Fear, Incorporated on Wednesday of this week! No late Saturday night for me this month! No feelings of being stressed and overwhelmed and wondering if I'll get it all done! I have my set-design team to thank for that. They helped me reach a big goal that I set for myself after experiencing a bout of burnout this past summer. Read about that here. It feels great to know I'm ready and have some margin before heading into this weekend. I think my husband likes that too!
How about you? How are your sets coming along this month? I can't wait to see what you've come up with. Share your photos on our Facebook page or in the comments below.
Hope all goes well for each of you as we launch the Life App of Courage!