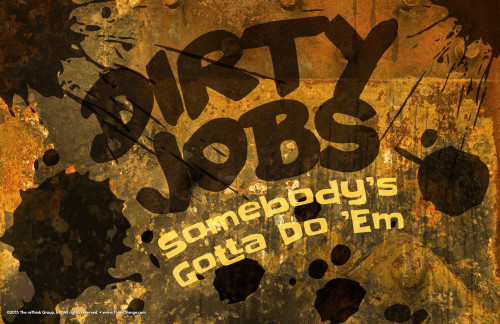 28 Sep

Initiative – Dirty Jobs – September 2015 – Our Process

Life App: Initiative – seeing what needs to be done and doing it.
Theme: Dirty Jobs
Date: September, 2015
Our Process
This last Sunday in September had 252 Basics users wrapping up the Life App of Initiative.  Preparation for October's Theme – In Focus  is underway and we'll kick off the Life App of Individuality next Sunday. You can read about our plan for Individuality here.
The month of September got away from me and I never got a chance to post the process we used for creating the backdrop for Initiative. Creating the backdrop was arduous this time around, but I was pleased with the way it turned out. Check out the gallery below for the entire process in pictures, but here's a summary of how we created this month's set:
We used the Life App Graphic on the center screen and the two blank Life App graphics on the two side screens that flank the center screen.

Instead of displaying the Dirty Jobs-Theme slide on the screens, we decided to mimic that graphic on our backdrop with paint.
We painted 5 insulation foam panels (that we use for our backdrop) a cream color to match the text color in the Life App graphic.
We used painters tape to create the words Dirty Jobs by projecting the Theme Graphic onto the backdrop to get the lettering to be the same.
We painted a layer of blue (again from the Life App graphic) in a rectangle underneath the Dirty Jobs wording.
We repeated the process above and projected the Dirty Jobs Theme graphic onto the backdrop in order to create the lettering for "Somebody's gotta do 'em."
We painted the entire backdrop grey.
We splattered the backdrop with black and dark grey paint.
Once everything was dry – we  pulled the painters tape off to reveal the words.
We used two metal trash cans (one on each side of the stage) and Velcro-ed the leader boards inside the lid of each. It was fun for the host to open the trash can lid each week and reveal the leader board as he/she kept track of the game points!
How about you all? What did you end up doing for September?