29 Feb

Forgiveness: DIY – March 2020, Our Plan

Life App: Forgiveness – Deciding that someone who has wronged you doesn't have to pay
Theme: DIY – Forgiveness is Up to You
Date: March 2020

I'm so excited about the month of March! The theme for the Life App of Forgiveness lends itself to an awesome opportunity for some fun in our elementary environment. And, it gives us the chance to get everyone involved! Below, you'll find all of the details for what we have planned.
The March Stage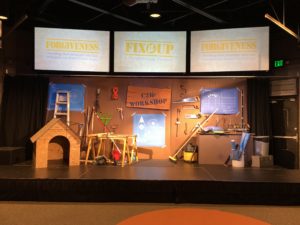 Obviously, the DIY theme lends itself to a workshop/DIY project design on stage. We've done a "C3 Kids Workshop" before and we were trying to think about how to do something different, but decided it could be fun to bring back the old workshop and talk about it as something that shows up from time to time. The host will reference how we are "…back in the C3 Kids Workshop, and while last time we built a doghouse, this time we've got a new assignment or project to complete." We'll show pictures of the old set as part of the host's opener to help make the connection. And then we'll reveal/work on this month's project each week!
So, our March set will be filled once again by pegboards, saw horses, shop vacs, tools, drop cloths, paint, and all things DIY!
The DIY Project
Not going to lie – this is one of my favorite things our team has ever come up with! The DIY Project in our C3 Kids Workshop for the month of March will actually be our April Set! Yep! We'll be constructing our April set all month long as part of the DIY theme/project for March. Here's the plan:
February's set will be deconstructed
Piles of foam board, paint, tarps, etc. from February's set will be left throughout the workshop
These pieces of foam board, etc will be used to create pieces of April's set
Our plans for April's set (drawings, checklists, shopping lists, etc) will adorn the peg board backdrop
Each week, a different piece of April's set will be constructed (behind the scenes – on a Sunday afternoon possibly) and "stored" somewhere in the workshop until it's time to actually build the set for April (the week headed into Sunday, April 5th)
April's Set Plan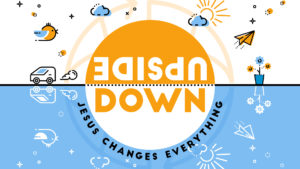 We will mimic some parts of the theme graphic for April as we create April's set. Here are the main pieces that we'll construct in our C3 Kids Workshop throughout March:
Blue backdrop (5 foam boards painted blue to match the theme graphic blue)
Clouds in the sky (cut from foam board and covered with cotton)
A big sun (cut from foam board and colored yellow by torn pieces of various shades of yellow paper)
A long stream of orange paper airplanes (made from orange copy paper)
Flower pots (white paint buckets) with tissue paper flowers coming out of them
A large truck similar to the one from the graphic (made from February's iPhone, with pieces of the headphones as tires)
A spinning wheel center stage that has HUMILITY written across the top of the circle and each week's bottom line displayed on the bottom of the circle – upside down of course. The host will spin the wheel to reveal the bottom line each week in his/her closer
ALL HANDS ON DECK!
This is the best part of April's set! We'll have the kids in our environment contribute to the DIY project all throughout March. Each week during our social time, Small Group Leaders will work on a specific piece of April's set with their group. This way, everyone is part of the DIY project all throughout March and they get to see their work on display in April! Here is our schedule of projects: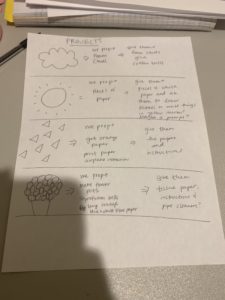 Week 1: Explanation of the project (no work for groups)
Week 2: Clouds (precut foam board clouds) – SGL's work with kids to place cotton balls on clouds and give them some dimension
Week 3: Sun (foam board cut out in the shape of a sun with spires – enough pieces for each group to have one) – SGL's work with kids to tear various shades of yellow paper and glue it to their part of the sun which will then be pieced together to make one sun on the backdrop
Week 4: Paper airplanes – SGL's get orange paper and create paper airplanes with their few
Week 5: Tissue paper flowers – SGL's create tissue paper flowers from blue and orange tissue paper to go into the white buckets in keeping with the theme colors
The truck and spinning wheel will be created by our set design team throughout the month and the kids will see the progress each week.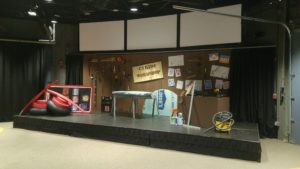 For example, on Week 1 of March, the iPhone will be laying in a pile of foam board. By Week 2, however, it will be cut and painted to look like the side of the truck from the graphic. The center portion of the headphones from February will be painted black to act as tires for the truck.
This means a little bit of work each week from our set design team. We've worked it out so that we're trading one big work night at the end of the month for a few Sunday afternoons. The work hours will hopefully be the same and our set for April will be done well in advance! We hope!
Stay tuned – we'll keep you posted on the progress from the workshop! Hope you all have a blast with your DIY theme this month. Share photos and let us know what you're planning!