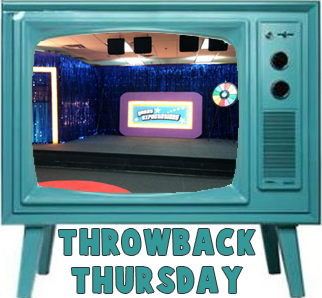 21 Nov

#Throwback Thursday – Life App of Responsibility – May, 2012

Life App: Responsibility – Proving you can be trusted with what is expected of you.
Theme: Great Expectations
Date: May, 2012

I'm probably dating myself when I say that this set reminded me of a show my parents loved to watch when I was a kid. Maybe some of you will remember it – The Merv Griffin Show! While I don't remember much about the show, I do remember the set was flashy!

That's what we were going for when we created our set for the Game Show Theme-Great Expectations. We took our inspiration from Merv Griffin and of course, The Price is Right and tried to make it as flashy as possible. I remember we had our host enter through the lit up doorway each week, as game show music played! I also remember the kids LOVED sitting in the VIP seating. We assigned each small group a color at the beginning of the month and then "spun the wheel" at the end of large group each week to determine which group would sit there the following Sunday.

It's been a while since this set was up, but I have fond memories of what we did that month as we focused on the Life App of Responsibility!

This set was completed prior to the launch of this blog. As a result, we have only included a photo gallery of our completed set.

Posts about more current sets usually include information about our brainstorming sessions, necessary supplies, and the process we use to create our environment. While these have not been included for this set, I'd be happy to answer any questions you might have about them. Feel free to contact me here.