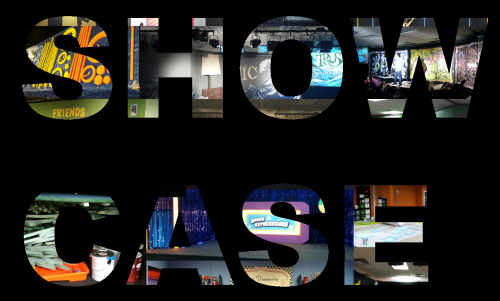 10 Mar

SHOWCASE – Seeing is Believing!

Life App: Faith—believing in what you can't see because of what you can see.
Theme: Now I See It; Seeing is Believing
Date: February, 2014

Here are some amazing environments and set design ideas from some super creative leaders. This SHOWCASE represents 252 Basics February Theme:  "Now I See It-Seeing is Believing." What a great month full of super ideas and terrific collaboration. I am learning so much from you all. Thanks for sharing!
Family Life Christian Fellowship – San Diego, CA
Bernie Lopez shared lots of great ideas in the comment section of our February collaboration post. She shared as she was creating so it was extremely helpful! You should all get in on those convos each month. They really spur creativity and offer so many ideas! Here is a summary of what she shared about her creation process for her February set:
Will have some beakers, microscope, 2-liter bottles filled with colored water (one has a rubber snake in it), a kite (Ben Franklin), some science books & posters. Printing periodic table and a Faith poster I made (with the help of VistaPrint but I'm printing it myself). The DNA strand is a flower pool noodle cut in half, with tinker toys. The molecules are fat colorful straws found at Big Lots and spray-painted practice golf balls & wiffle balls. A friend lent me this cardboard cut out that the kids can put their face in! I will add "Lab" to it to say Welcome to the Lab. Made an atom with glowstick necklaces. 3 packs at the dollar store, and 2 necklaces in each pack, so I can make 2. Used little water balloons for the middle. You an even make several little ones with embroidery hoops. We borrowed a bunch of stuff from an elementary school science lab. A few posters printed at home and mounted on poster board. We had a panel from our FX set that we borrowed (with the shelf on it). The crates I already had.
Brazos Pointe Fellowship – Lake Jackson, TX
Kaitlin Staples shared this with me on Facebook:
South Ridge Church – Fairmont, WV
Megan Wright shared this about her set for February:
I have some shelves that will hold specimen jars and other science tools. The kids are going to walk through a plastic sheet before entering the lab. Have lab table and some other hanging props for our focal wall.
Other Environments
These leaders shared in the comment section of our February collaboration post. Even though I don't have the name or location of their church, I wanted to share what they came up with.
Vicky Zancanella
Our set design needs to be mobile, so we have 2 large 4 x 8 foot canvases that we cover with paper. We add images as well as the monthly theme. I created "HAVE FAITH" from the periodic table element letters to add to our canvas this month.
Diane Gihring 
Great stuff everybody! Thanks so much for interacting on the blog!