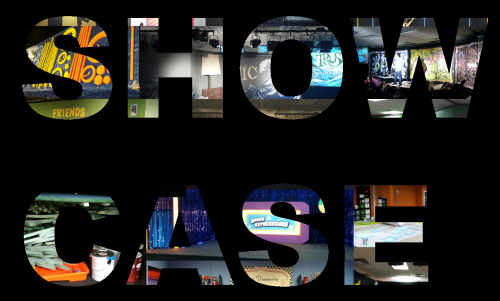 11 Dec

SHOWCASE – Environments that SHINE!

Life App: Joy – finding a way to be happy, even when things don't go your way.
Theme: Let It Shine!
Date: December, 2013

Here are some super-fun environments that are shining brightly and reflecting JOY!
Brownsville Community Fellowship Church – Brownsville, TX
Amanda Morales shared her process with us for this month's set:
"We had a blast setting up for December! We loved the idea, but decided to put a spin on 252's use of string lights. We screwed hooks into the top ledge of our stage wall where we were able to hang multicolored bulb lights that the "big church" wasn't using. These lights look great in our classroom because the entire kids' wing is painted these bright, vibrant colors! The plus side of those hooks is that they are practically invisible and can be used for hanging stuff in the future. The best part though was that they were only about $7 at Lowes.
Next, we projected the "let it shine" image onto cardboard, traced it, cut it out, and painted it. (Outlined the word shine with glitter pens.) Then using fishing line, we hung the sign from the same hooks, over the lights, so it gave it a great 3D effect!
Later we added the words "spreading joy that lasts" to the sign by cutting out and gluing pieces of white cardstock. (Not photographed)
Of course we have a Christmas tree up! But under the tree I reused some big cardboard boxes and wrapped them in solid colored shiny wrapping paper.
I didn't want to stray from the "shine" theme so I decided to up the lights and glitter.
I cut out "bulb lights" from colored paper and glued them to some yarn. I used these fake string lights along the front of our stage and also on our bulletin board outside of the class. (Not photographed)
Then I made round ornaments, again out of bright colored paper and used glue and glitter to spell out the word "joy." I put these to the right of the stage near the Christmas tree.
The kids absolutely love the lights and so do the parents! Its going to be a great month!"
True North Community Church – Bohemia, NY
Phil Summers also shared a bit about his thought process going into the creation of their set:
"We wanted a living room sort of feel for our stage and I had what I thought would be a crazy idea for a fireplace but an amazing volunteer helper made it happen and then our team decked out the mantle and stage to be super joyful!" 🙂
FBC Wagoner Kid One Children's Ministry
"The ornaments are made from the base of some old round cribs we finally got rid of. The fireplace is hiding a piano we never use anymore. Sometimes decorating is more about disguising!"
Hope Church – Cordova, TN
Shelly Chang shared this image with us on Twitter. Love the way it incorporates the 252 Basics Graphic and their environment pics!
Evangelical Covenant Church – Whitehall, MI
Kim Willacker shared photos for this month's environment and explained how they use decor in various places within their environment:
"We have a balcony to the right of the JOY  backdrop.  We have colored lights hanging with the LET IT SHINE signage. As we descend the staircase the first thing you see is "LET IT SHINE" with colored lights above it. We also have white lights surrounding the whole gym.  When we reach the bottom of the steps the "JOY" backdrop is to the left.  The pre-school class is to the right so we try to keep the activity away from there since they are not involved with large group.
 I can't wait for January I love the olympics and will be focusing mainly on that for the theme including the olympic flame." 🙂
Thank you for sharing your photos and insights.
Next week, we begin discussions about January's environment! Get Ready… Get Set… Get Your Head in the Game!