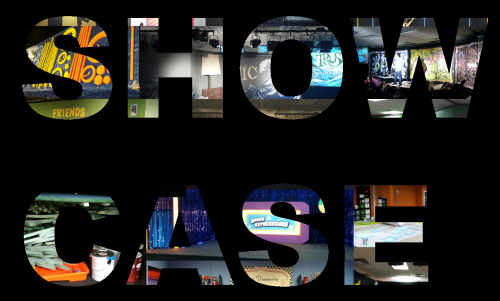 15 Nov

SHOWCASE – A Cache of Environments from NY to LA (and a few places in between!)
Special Features for this Month's Showcase
As always, we received some awesome photos of environments this month! You'll find all of them below. However, as I looked through the submitted photos, I noticed some things that I haven't seen before. I decided to highlight them in the hopes that it might help some of you who are in similar situations:
The first is a multi-site church. You'll see how two campuses from the same church set up their environments differently based on the space they each utilize.
The second, is a static set (a set that does not change from month to month, but instead has specific elements that are always the same).  
Two of the churches that submit photos regularly have static sets and they both do a great job of changing various elements each month to fit the current theme and give their environment a fresh look. I've included photos of their previous month's sets, so you can see what stays the same and what changes.
When you have a static set, it can begin to fade into the background and become just the "stuff" that is always there. These leaders have ensured their kids will walk in each month to something different, without changing the entire thing. LOVE IT!
So, without further adieu… here are Novembers's awesome environments:
First Church of Christ – Kentucky
This church is a multi-site campus in Kentucky. Check out how two of their campuses created their own individual environments specific to their space.
First Church of Christ – Florence, KY – Union Campus 
Jenny Leach shared that their campus is housed in a temporary location and as a result their space is limited. Even still, they've done a great job of creating a fun environment and incorporating November's theme!
First Church of Christ – Burlington, KY – Burlington Campus
Julie Flanagan shared that creating their environment this month involved following 252 Basic's suggestion to make the satellite.  Then they added a few maps, plants, and an info board with local geo caches listed.
Very cool to see the same church tailor their environments to their spaces!
True North Community Church – Bohemia, NY
This is one of our static set features. Phil Summers gave us some insight about how they enhanced their environment to reflect the theme this month. Here's what he said:
"We kept it simple by piecing road maps together and placing sneaker tracks on top to resemble a treasure hunt map. From the ceiling we hung compasses and an amazing satellite! You'd never know it but it's built from an inexpensive garbage can and other simple materials. It even lights up. I'm grateful to work with such a creative and handy team!"
Now look at the same set from the month of September when they focused on the Life App of Courage.
New Generations Children's Church – Larose, LA
Josh Cheramie leads in another environment that uses a static set. Here are the photos he sent for November's Widsom Themed set.
Here are photos of that same set featuring this past summer's Base Camp theme.
Hope Church – Cordova, TN
Shelly Cheng and her team do a great job of creating interactive environments. This month, they've used coordinates on a GPS that parents and kids can use to find "cache" around the church! AWESOME!
Trader's Point Christian Church – Indianapolis, IN
This church shared a photo of their environment with us on Twitter! LOVE those satellite dishes!
Thank you for sharing what you have created. I'm learning so much from all of you. Keep the photos coming. Can't wait to see what you come up with for December!