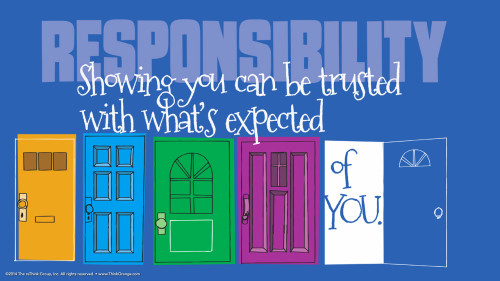 04 Sep

Responsibility – Opportunity Knocks – September 2014 – Part 1: Our Plan

Life App: Responsibility—Showing you can be trusted with what's expected of you.
Theme: Opportunity Knocks
Date: September, 2014
Trying to Get Back Into A Routine
I feel like I've said that to you all a few times already this summer. It's been a wonderful summer, but it seems there has been one thing after another that has kept me from my beloved blog! Couple that with the fact that my church was not on the same schedule as 252 Basics over the past few months and you get little – to no blogging from me. My apologies.
I'd like to believe I'm back into a normal routine (whatever normal is in Children's Ministry)… but I won't make any promises. 🙂
Too Late for Brainstorming
I realize that the Life App of Responsibility kicks off this coming Sunday, September 7th. I also realize that most of you are probably already into the process of creating your environments and most likely don't need much brainstorming of ideas at this stage of the game. So, instead – I'd love for you to show us what you're up to! I've included our plan below along with a few photos of what we have so far.
I'd love to see what you are creating this week, so please make sure to respond in the comment section below or upload some photos to our Facebook or Twitter pages. Can't wait to see what you have going for the "Opportunity Knocks" theme.
Our Set
As I type this, I am getting ready to go the hardware store to get some things we'll need to "fix" our set. I've run into a few problems as I assembled things this week, so I'm off to figure out what to do. For now – here is what we have completed:
Purchased four doors (the cheapest ones at the hardware store – stripped down, no doorknob hole, etc) I bought two paneled doors and two plain doors. Two were 36″ wide and two were 30″ wide to give some character to the set. 

Painted the doors with extra paint we had left over from other sets (four vibrant colors in an attempt to match the graphic).
Purchased two pieces of cheap plywood and had the hardware store cut them in half lengthwise (2'x8′ when finished).
Painted the plywood pieces purple to match the theme graphic
Purchased hinges and 4 dummy door knobs (on clearance).
Hung each door onto a piece of plywood. They plywood was to sit in our backdrop-track system and the door would hang just above the stage so it could open and close. I'm hoping this will still be the case, but only today will tell!
THIS IS WHERE THE TROUBLE BEGAN! I'm not an engineer. I don't think about how things are weighted, cantilevers, etc. I'm not sure I even just used the right word there. My husband does this for a living, but I am just too right brained and he is out of town this week! UGH. At any rate, it turns out that the doors were too heavy for the plywood piece and since the plywood did not fit exactly into the track, (there is a one inch gap at the top) the weight of the door is pulling the entire structure to the left. At the suggestion of Nick Blevins (also thinks like an engineer), I'm headed to Home Depot to get bolts to attach to the top right corner of each piece of plywood. This way, when the door wants to pull the panel, the bolt will hit the backdrop track and stop it. I'll let you know how it all turns out. For now, here is what I hope to finish today:
Hang the doors and solve the tilting issue.
Paint some embellishments on the doors to make them a bit more fun! This is more my speed!
Project, trace, carve, and paint a large "knocking arm/hand" from the Large Group Graphics that will hang on the door we'll open each week (this knocking hand will move to a different door each week).
If needed, add lettering that says "Opportunity Knocks" cut from a Cricut.