03 Apr

Photo Tex

We have the incredible privilege of having a team of brothers that attend our church who have a printing business. You can find out about them here: Canvas Brothers

They specialize in printing on canvas but also print large scaled images on quality poster paper or Photo Tex – a material much like the kind used for Fat Heads. The beauty of Photo Tex is that you can adhere it to something and then peel it off and move it if need be. We actually do not do that too often, but we love the fact that we have sticky backed images that we can attach to foam core and use as part of our backdrops.

Usually, the way we use Photo Tex is by taking the graphic that 252 Basics sends us for the monthly theme image or the monthly Life App image and have it printed. Then, we peel off the backing and attach it to a piece of foam core the same size (usually, we'll have painted the edges of the foam core for a finished look). Then we can pin the sign on the backdrop using our T-Pins. It is a very professional way of adding to the backdrop and it helps pull the set together, as we usually have the theme on a Photo Tex sign and the Life App on our side screens or vice-versa. Here are a few examples of how we've used Photo Tex: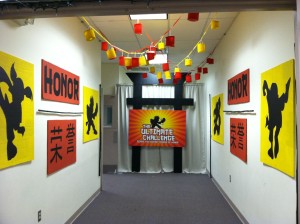 Here we had multiple images printed, cut them out and adhered them to pre-cut and painted foam core. This was our entrance to our Family Expierience. Once our FX was over, we moved all of the images to the stage backdrop for our monthly large group environment. You can learn more about that in this post about the Life App of Honor.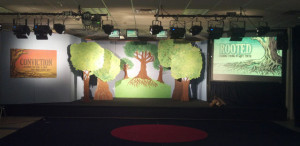 This is an example of how we used a Photo Tex sign for the Life App (left side of photo-Conviction) and the theme image (right side of photo-Rooted) on our side screen to create a complete backdrop and set. You can read more about our process for this set in this post about the Life App of Conviction.