19 Oct

#OC19 – It's Personal
Romcoms Live In My Heart
I love romcoms! Romantic comedies are my favorite genre of movies, specifically movies like Sleepless in Seattle and You've Got Mail. Okay, maybe I'm showing my age, but I love the whole Tom Hanks/Meg Ryan duo.
If you've never seen these movies, you should! And if you haven't seen them, humor me as I capture a moment from You've Got Mail that reflects my excitement for the theme of Orange Conference 2019. Stay with me – I promise it will make sense.
You've Got Mail is basically the story of a small business owner (Meg Ryan) who's faced with closing her charming bookshop in New York city. A larger well-known bookstore opens around the corner from her shop and the competition is just too stiff. Of course the romance part comes from the fact that she falls in love with the "suit" that is putting her out of business!
At one point in the movie, her competitor (Tom Hanks) is trying to convince her that his move to open his store around the corner was just business. It wasn't personal. Ryan's character becomes frustrated and her response is brilliant. Check it out:
I absolutely love Meg Ryan's closing line in the scene: "…what's so wrong with being personal, anyway? Whatever else anything is, it ought to begin by being personal."
It's Personal
The Orange Strategy has always been personal for me – as a leader and a parent. Read more about that HERE. The Orange Conference takes things to a new level for me each year as it challenges me to:
be for my neighbor
do more together
connect with children and students at each phase of their life
partner with parents
say yes to the next generation
These are just a few of the themes that have challenged me throughout my years of attending the Orange Conference. This year, the theme gets personal as it reminds us that…
JESUS MADE A DIFFERENCE, BECAUSE HE MADE IT PERSONAL.
Think about it. Things changed when Jesus:
called Zacchaeus by name
addressed the Samaritan woman's past
spent time in Mary and Martha's home
invited each individual disciple to follow Him
intercepted Saul on the road to Damascus
JESUS MADE A DIFFERENCE, BECAUSE HE MADE IT PERSONAL.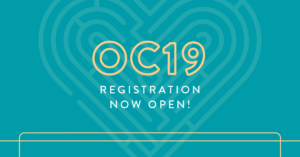 I can't wait for the 2019 Orange Conference. I can't wait to unpack the idea that when we follow the model of Jesus and make it personal – we too can made a difference and leave a lasting mark!
Will you be at the
Orange Conference
in 2019? Registration is now open. I hope to see you there!