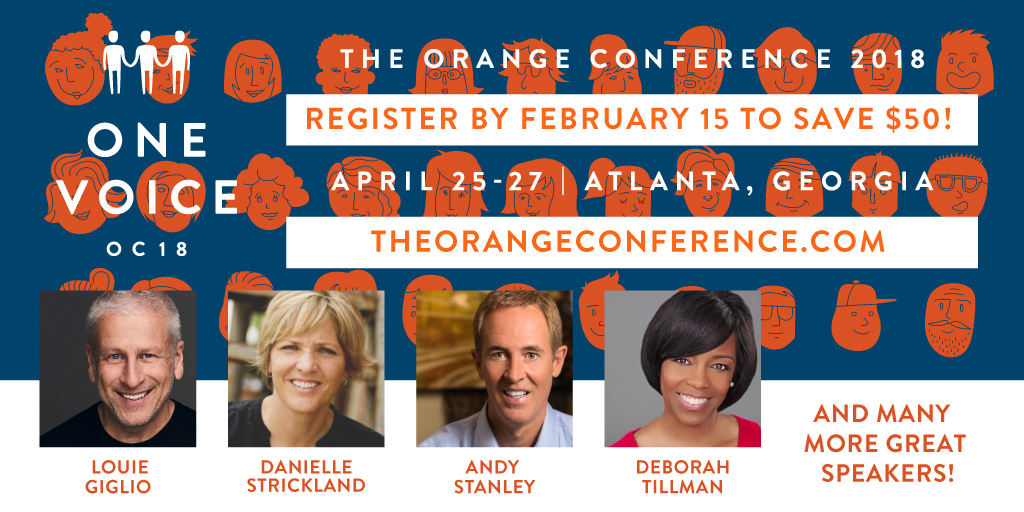 13 Feb

#OC18 – One Voice, We Can Do More Together!
More Than a Curriculum
Orange is the strategy we use at Community Christian Church across our Children's and Student Ministries. If you notice, I did not say the curriculum we use. While Orange is widely known for it's curriculum, it offers so much more than that. Orange is a strategy. A mindset about how to align staff, parents, leaders, and volunteers around common language, common goals, and a common vision. It is a movement that synchronizes talents, perspectives, and gifts to influence the next generation.
The Orange Conference will take place as it does each April in Atlanta. This year's theme hints at this concept of synchronization: One Voice, We Can Do More Together.
More Than a Color
Orange takes it's name from it's desire to partner with parents. On the color wheel, red and yellow combine to make the color orange. The color orange is a representation of what can happen when two powerful colors come together to make an even more vibrant color.
Orange sees the partnership between the church and the home in a similar way. The color red represents the home, the heart, and the love of family. Yellow, on the other hand, represents the light of Christ and the church. When these two powerful influences come together, they can make a greater impact on the next generation.
More Than A Partnership
The brilliance of the Orange concept with regard to partnering with parents (and the use of the color orange to illustrate it) is one of the hallmarks of the Orange strategy. But it is only one part of it. Another aspect of the Orange strategy has to do with aligning the various ministries, leaders, and programs within a church around a common vision, goal, and language.
More Together – Silos & Traffic Cones
I remember the first time I heard Reggie Joiner (the CEO of Orange) speak about the Orange strategy as it applied to the church. He had several orange traffic cones scattered on the stage where he was speaking. As he talked about these cones, he referred to them as various programs and ministries within the church. Reggie observed that often within the church, these various ministries and programs will work in silos… operating as separate entities. Reggie went on to remind us of the importance and purpose of traffic cones as they provide direction and clarity about where to drive.
If we think about traffic cones spread out randomly around a parking lot – they are not very useful. If anything, they might actually cause confusion and create a hazardous situation. But, when the traffic cones are aligned and configured in such a way that they work together to provide direction – these small rubber or plastic objects can direct the path of something as large as an 18-wheeler!
In the same way, when our church ministries and programs operate in isolation we can create confusion for the people who attend. We can end up competing for attention and in the end lose our ability to have influence. Instead, if like the orange cones in the parking lot – we align our ministries and programs around common language, goals, and a unified vision – we will be able to provide clear direction and make a greater impact together.
One Voice. We Can Do More Together. That's the theme of the 2018 Orange Conference. I can't wait to learn more about how to help my team gather around common language, goals, and a unified vision to make a greater impact on the next generation. Will you join me?
Registration for the 2018 Orange Conference has been open since fall but the price goes up this week (Feb 16). Sign up today!