28 Apr

#OC16 – Main Session 1 – Monday is Coming!
Powerful Production
"From soup to nuts" was an expression my father taught me. It is derived from the description of a formal dinner that progresses through several courses, beginning with soup and ending with a dessert of nuts. My dad used this expression often to describe an event or anything that was put together well from beginning to end. I have since adopted it and would have to say that the 1st session of the 2016 Orange Conference was amazing from soup to nuts! But I don't just mean it had cool stuff from beginning to end or that it was well executed from beginning to end. All of that is true, but for me, it was more than that. Every bit of what the Orange Leaders were trying to convey was woven into the entire production – from soup to nuts.
If you read this blog at all, you know my love of environments and my desire to create irresistible environments for kids. Almost equal to my love of creating environments is my love of production. I believe the two go hand in hand and some of the best productions create environments that connect the teaching to what is seen, heard, felt and experienced. Great productions and great environments can work together to connect the dots for those in attendance. I have always felt that Orange does this beautifully and last night's main session did not disappoint. Each element of the production pointed us to think about this one big idea: Monday's Coming – Reimagine What You Do!
The production opened with a sketch where a character named "Monday" takes the stage and is feeling useless. She shares her issues with how she is unloved and no one really likes her and she just wants them to give her a chance. A character named "Sunday" makes a grand entrance and is smug and superior. Each day of the week follows, carrying their own amazing characteristics: Friday is a party guy, Saturday is dressed to be outside for yard work, etc. Thursday arrives with a tablet around her neck and is all about TV shows – Must See TV! Wednesday is the Hunchback of Notre Dame (hump day) and is "devoted" to Sunday, and Tuesday finally shows up and offers everyone tacos! The struggle between Sunday and Monday escalates as Sunday continues to think he is the best day of the week while Monday feels a bit bullied. The sketch ends with Sunday singing a parody of the song "I Will Survive" and the production transitions to the band singing the song "Everybody's Working for the Weekend." If you don't know the song, Google the lyrics to see the brilliant connection to the session's theme.
From there, Jon Acuff took the stage and shared a few things about Sundays in general. Did you know that researchers have determined that Sunday at noon is the most depressing hour of the week because people begin to feel Monday coming? He makes the point that people visit our churches on Sunday but they live in Monday. He's written a whole book about this called Rescue Monday. Jon Acuff transitioned us to four leaders who each took the stage individually and shared brief personal stories of their Mondays and how important it is for us to step into Mondays for the people we serve.
Cierra Bobo

– Monday's growing up for her were

stressful

and Sundays didn't make much sense in light of that stress. Until a youth leader invaded her Mondays and made Sunday relevant.

Kellen Moore

– Monday's for him are

unpredictable

. If we want to make an impact in kids/students lives, we need to be present. We cannot help if we're not around. We need to be predictable to the kids/students we serve  in their unpredictable worlds.

Eryn Erikson

– Monday's for her are

loud

. She encounters story upon story of people who are carrying lies. They believe the lies, live out the lies, and make choices in accordance with those lies. Her challenge to us was to be louder than the lies!

Carlos Whittaker

 – Mondays are

chaotic

. He had a hysterical story about his kids and a butterfly but at the end reminded us of the opportunities we have to lean into the chaos!
Powerful Content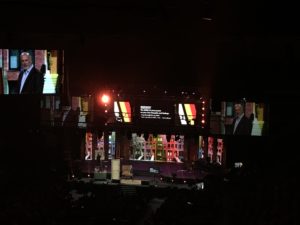 Every bit of the production described above pointed us to the main idea of the message Reggie Joiner was about to deliver. It gave us visuals, humor, statements, and tangible ways to remember the main points of what Reggie was about to share. And when he took the stage his message was powerful, challenging, and inspiring. True to Orange Form – Reggie's props, visuals, and stories served as beautiful illustrations and were memorable moments that made the concepts stick.
I could try to recap Reggie's message, but I doubt I'd do it justice. Instead, I'll share just a few things that stood out to me.
The secret to re-imagining what you do is this: You have to imagine someone's Monday before you can reimagine what happens on Sunday.
What if we started thinking Monday's coming – in the light of Sunday.
You can have a "Sunday Mindset" or a "Monday Mindset" (see the graphic for details).
Truth matters when love matters.

Sometimes what you say doesn't matter even if it's true.
Speak the truth in love, but know that you can't speak the truth in love if you don't know who you are speaking to.
It's not our job to fix people. It's our job to love them and to speak truth to them in a way that they know that we love them.
It's hard to speak the truth in love when you don't know about someone's Monday.
We can't just show up once a week and mention Jesus or a truth. We have to show up in a new way.
We need to reimagine how to step into someone else's Monday and help carry their load.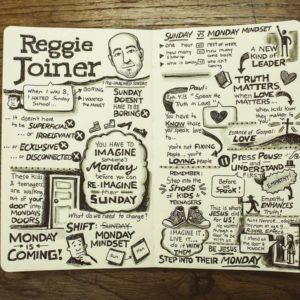 For more details, check out this amazing illustration, created by an artist who sketches the message live throughout the session.
My favorite element of the message was a trunk Reggie used at the beginning of his talk. He pulled shoes from this trunk: children's shoes, teenager's high heels, adult sized sneakers. Each pair represented a child or person we might meet. Later in the message – as Reggie puts the shoes back into the trunk he made this statement – we can't speak the truth in love to people unless we've walked in their shoes. There will be kids and families that will never step into our church unless we step into their world. The power of this was immense for me. When the shoes came out of the trunk at first, I thought they were just representations of people. But at the end, when the challenge to walk in other's shoes was extended, it tied the entire night together with one big exclamation point!
A Powerful Take-Away
As I sat and listened to this amazing content and thought through each aspect of the production, I was convicted. I've been wrestling with something the past few months. I love my work and feel so privileged to be in ministry. I love the local church and believe in what we are doing.
But, the nature of my role and specifically what I'm passionate about, can keep me so busy inside the walls of our church that I forget to get out on the front lines and show up in the Monday-Saturday of people's lives. It's easy to hide behind creating sets, producing large group, and organizing teams, all the while thinking I'm serving others and being the hands and feet of Jesus. Even my role as a storyteller makes it easy for me. I get to teach the Word of God to elementary-aged kids, but I am not really involved in their lives. I often don't know many of their names. The tasks of my job can easily keep me in my "safe place," with people who think like I do, believe what I believe, and love Jesus just like me. I sometimes wonder if this is what God had in mind for me when He called me into ministry? Of course, I think it's important but it can't be the only thing. And it can't trump loving people and being involved in their lives.
So, I left Session 1 with a burning question in my heart… Who's Monday do I need to step into? Who in my life, my neighborhood, my world, needs me to step in and be the hands and feet of Jesus? I challenge you to ask the same thing. Let's reimagine what we do on Sunday's in light of what the people we serve are facing on Mondays… and every day.