04 Apr

Modge Podge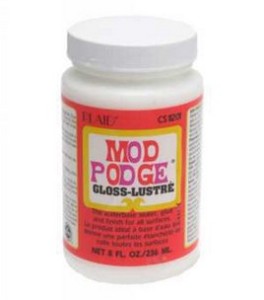 It's sticky and messy, but we love it! I wouldn't say we use it regularly, but it has come in handy when we've needed to attach something that required a smooth, finished look. It seals things permanently and you can purchase matte or glossy, but both add a bit of sheen which makes the project look a bit more professional.
An example of this is when we created giant olympic medals for the Life App of Determination. We had an Olympic theme and hung medals on the backdrop. We cut the medals out of foam core and painted them gold, silver, and bronze. Then we cut circles out of paper to represent the Olympic rings. We placed them on the medals in the shape of the Olympic Symbol and Modge-Podged them into place. If we had just used double sided tape, the edges would have come up and the circles would not look like part of the actual medal. We wanted the symbol to look like it had been embossed and using the glossy Modge Podge gave us exactly the finish we were looking for.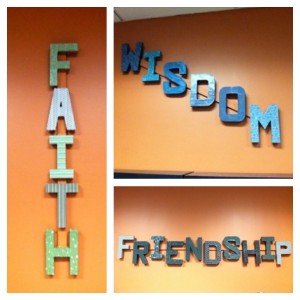 We also used Modge Podge recently when we re-tooled our environment. I wanted to created fun signage that would represent the words from our basic truths-wisdom, faith and friendship. You can read more about that project in this post, but here is a photo of the finished products… thank you Modge Podge!