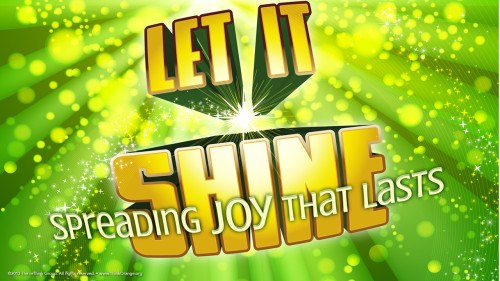 18 Nov

Let's Collaborate – December's Environment – Joy!

Life App: Joy—finding a way to be happy, even when things don't go your way.
Theme: Let It Shine!
Date: December, 2013

If you are like me, you might get a bit frustrated with the fact that shopping malls begin decorating for Christmas the day after Halloween. As I walk through the stores and see all of the orange and black being replaced by red and green, I begin to panic and think "Oh my goodness, I haven't done anything for Christmas yet. I'm so far behind!" But then, I remind myself that just because the retail stores are getting ready for Christmas, doesn't mean I have to. On the day after Halloween, I still have almost two months until Christmas!

Then it happens. Time marches on and before I know it, Christmas is around the corner and I still haven't done anything to prepare. On the personal end of things, that's not a big deal. I am always a last minute shopper and am great at wrapping under pressure! BUT… when it comes to ministry, I can't be last minute. Like you, I create an environment for kids each month. That means our Christmas decor needs to be ready in two weeks… from yesterday that is!

How's that for inducing panic and stress. 🙂 In all seriousness, we do need to start thinking about December. It's around the corner and it's a beautiful, special time of year – especially for children.

I'll post our plan for decor later this week but first, I'd love to hear about what you all are planning.

Comment below and share your ideas for "Let It Shine." Let's collaborate and learn from each other. Merry Christmas everyone!
***ADDITION***
Here is a graphic that was created by Shelly Cheng. Details about her church's plan for December can be seen in the comments below. Fun stuff!