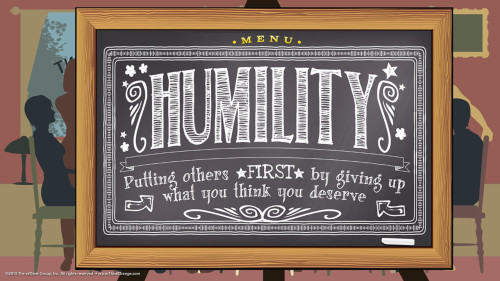 20 Mar

Let's Collaborate – April's Environment – Humility!

Life App: Humility—putting others first by giving up what you think you deserve.
Theme: Be Our Guest
Date: April, 2014
When the Moon Hits Your Eye Like A Big Pizza Pie …That's AMORE!
I LOVE the theme for this month. Not only do I love the idea of an Italian restaurant (my last name is Molite and my maiden name was Mannarino, so go figure!) but I also love the thought of teaching the Life App of Humility through the lens of how we might treat a guest in our home, church, etc. What a perfect month for it, as we gear up for Easter and will most likely have guests coming through the doors of our churches.
If you haven't yet read the intro for April on 252 Basics matrix – I recommend that you do. It's a great reminder of how when we host guests, we have to give up some of our comfort to accommodate the needs of others. Jesus gives us the ultimate example of this, and the Easter story depicts the highest form of humility. Personally, I love it when everything coordinates and connects together, so I'm super excited about the way this month's theme and Life App tie into the celebration of Easter!
Inspiration from Disney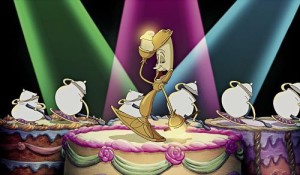 There are many directions you could take with this theme… most of which were inspired for me by Disney movies! Of course there is the theme itself – Be Our Guest, which conjures up images of dancing tea pots and candlesticks serenading Belle in Beauty and the Beast.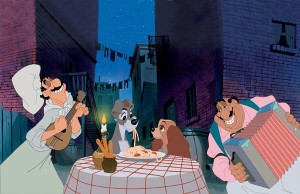 Then there is the Italian restaurant scene from Lady and the Tramp – where the waiter plays "Bella Notte" on an accordion while the pups enjoy a plate of spaghetti and meatballs!
I feel like you could utilize either of these movies and create an environment based off of their images, characters, etc. Kids would relate and will most likely love seeing something so familiar incorporated into the teaching of humility.
Ultimately, I love the suggestions that 252 Basics gave in the "Create This Month's Environment" section of Week 1's Large Group Script. Most of our theme will come from that this month. I'll probably use the songs "Bella Notte" and "Be Our Guest" either as intro songs for large group or on our house music-playlist that plays upon entrance to our environment.
Our Plan
You might remember from last month's collaboration post that our church is in the midst of a move. Our new building is not ready just yet, so we are in a temporary and portable setting for the month of March. We are hopeful that we will be in our new home sometime in April. That means our kids will see their new space at the same time as we launch the Life App of Humility. As a result, the Life App Theme will not be as big as it has been in previous months for us. We will be working overtime to get our new facility up and running and we are strategically going to focus our efforts and energy on that, rather than the creation of a large-scale themed set. Having said that – we are going to use our new stage to create the setting of an Italian restaurant as 252 Basics suggested.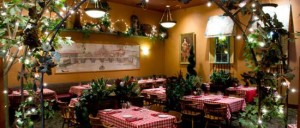 TIP – If you Google "Italian Restaurant" images, a host of inspiration awaits. This photo I found of Ernesto's in Portland, Oregon will offer the basis for our stage design.
Here are some of the things we are planning:
We'll paint our backdrop a muted yellow color.
We'll have a Photo Tex sticker printed of the Theme slide graphic and hang that in the center of the backdrop.
We'll hang framed photos of scenic Italy around that graphic.
We'll have an easel chalkboard with the "Menu for the Day" written on it.
We'll have card tables with red and white checkered table cloths, bread baskets, candles, etc on each.
We'll place ficus trees around the "restaurant" and attach green leafy garland to the backdrop.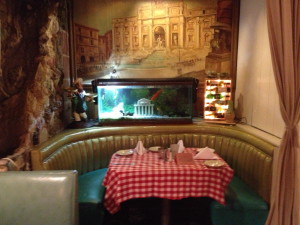 I did think about having someone in our church who is an artist paint a Tuscan scene (rolling hills, vineyards, etc.) as the entire backdrop, but again – with our move, our energy needs to be focused in a different direction this month. Thought I'd share the idea in case someone could use it.
YOUR TURN!
So, what are you all planning? Please jump in and share your ideas in the comment section below. Attach pictures if you'd like. Collaboration over the past two months has been terrific. I so appreciate all of you and your amazing creativity. Let's keep it going… Ready. Set. SHARE!
Grazie a tutti! (Translation – thank you everyone!)