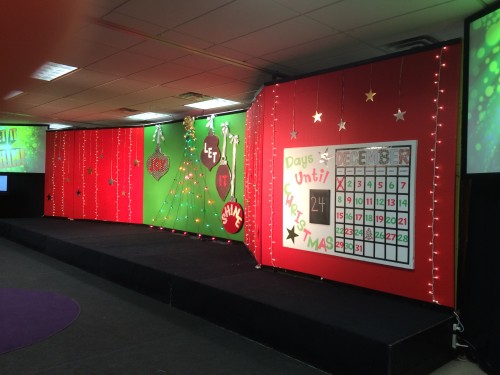 05 Dec

Joy – Let It Shine! – December 2013 – Part 2: Finished Product!

Life App: Joy – finding a way to be happy, even when things don't go your way.
Theme: Let It Shine!
Date: December, 2013
Kicking Off JOY!
Like many of you, we kicked off the Life App of Joy last Sunday. It was a lot of fun and the kids are all so excited about Christmas! We are looking forward to the rest of the month as we "LET IT SHINE" and "SPREAD JOY THAT LASTS!"
Not Exactly What I Pictured
The set took a lot more work than I anticipated and it did not look at all like what I pictured in my head. It was tough being that it was Thanksgiving week to get it all done, but somehow it came together (Sunday morning as we hung last minute touches).
Even though the final product did not turn out the way I thought it would, there are several things about it that I absolutely love…
Oversized Ornaments!
Maybe it's the "primary school teacher" in me, but I love making ordinary objects oversized. One of my favorite elements of our Contentment Set was the oversized notebook we created and used each week to keep track of our "Clues to Contentment." This month, one of my favorite features is our oversized ornaments!
Oversized Countdown Calendar!
Again, I love stuff that is larger than expected and creates a strong visual statement for kids. I am excited about using a "super-sized" calendar and a chalkboard to countdown the days until Christmas. Our calendar board makes me think of "Seuss-Landing" at Universal Studios in Orlando. Joy! Joy! Joy!
This gallery includes only photos of our final product. For more information and photos about our process, be sure to check out this post.