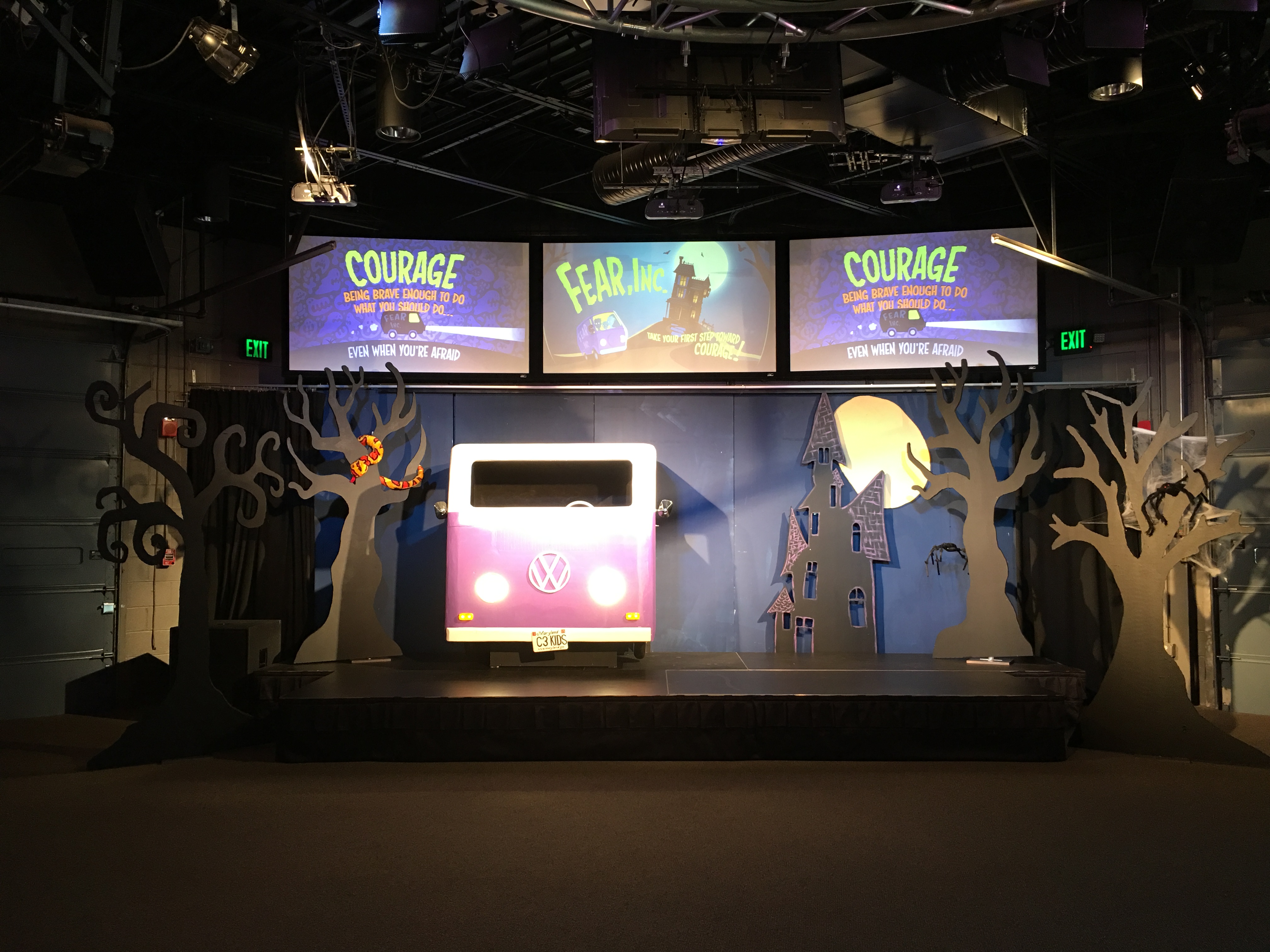 05 Oct

Courage – Fear Incorporated – October 2016; Our Finished Product

Life App: Courage—being brave enough to do what you should do, even when you're afraid.
Theme: Fear Incorporated
Date: October 2016
Volunteer Made!
This month's set is one of my favorites! Not only is it super fun, but it was created by my awesome volunteer set-design team! This team and their ownership of the process led to the terrific finished product in the gallery below. You can read about the development of our new process in my System Overhaul series.
A Great Suprise!
Our final work night for this set was on Tuesday of last week. I happened to be at the Orange Tour in Lancaster, PA but this team went to work without me and when I came into work on Wednesday, I had a wonderful surprise. They finished the set completely and there were a few extra touches that I didn't even know they were going to add (the spider web, the snake, and the hanging spider!). One of our volunteers was at the Orange Tour with our team and he opted out of dinner and went back to our church to help finish the set. We teased about how he made me look bad… I was enjoying my meal while he was crafting this month's set. I was incredibly grateful for his dedication. 🙂
Low Budget!
I also was thrilled that were able to repurpose so much of what we had already:
Using the Set
One fun thing we are doing this month is having our host come out from the Fear Incorporated van as he enters the stage each week.  We are also using the van to store the host's props for the opening game, etc. Some months our set offers a backdrop and just enhances the theme. Not much of it is manipulated and it acts more as decor to "set the stage" (no pun intended). This month, we are using the set as part of our production. I love it when that happens!
Week 1 is in the books and I think the kids loved the theme and the look of the stage.
Personally, I've loved the way the Life App and theme tie into the Halloween. We stayed away from some aspects of Halloween decor, but I love that this month ties into what kids are being exposed to in their everyday lives. What a great month to teach about the Life App of Courage!